Artima Gallery to Open Pop-Up Art Charles Fazzino Art Gallery on Cork Street in London
WHO:   Internationally-renowned, American 3D Pop Artist Charles Fazzino
WHAT: Two-Week Pop Up Art Gallery in London Featuring an Artist's Reception on August 4th.
WHEN/WERE:
July 31 – August 11: Fazzino Pop-Up Gallery Open to the Public
August 4, 14:00 – 18:00 Art Opening and Public Reception
Artima Gallery; 24 Cork St.; 07787 967 203, www.charles-fazzino.co.uk; info@charles-fazzino.co.uk
LONDON, ENGLAND – June, 2012 – Internationally-acclaimed, three-dimensional pop artist Charles Fazzino will make his first gallery appearance in London on August 4, 2012 at the Artima Gallery on Cork Street from 14:00 – 18:00. Fazzino, known for his uniquely three-dimensional original and limited edition works of art, will be in London representing Team USA during the Olympic Games.
The Gallery will feature the artist's UK-inspired works  "Touch Down in London Town" and "The Lights of London," as well as a large selection of his most popular pieces,  including tributes to New York City, cities around the world, and icons of entertainment and popular culture.  Charles Fazzino will be on hand to meet and greet fans and sign his works. Also on display will be an artwork he will have created the day before with students at the American School of London as part of his master class interactive workshop.
The two-week long exhibition, as well as the artist reception, are being sponsored by London's own Diplomat Magazine.
About Charles Fazzino
Charles Fazzino — one of the most popular artists in the world — is most well-known for his unique, detailed, and vibrant three-dimensional style. His work is exhibited in hundreds of fine art galleries and museums in twenty different countries and can be found in the collections of several Heads of State, including those from the US, Finland, Germany, Israel, Monaco, and Dubai.  He is an officially licensed artist of the National Football League and the Super Bowl (2000-present), Major League Baseball and the MLB All-Star Game (2003-present), and the US Olympic Team (2000-present).  He has also recently created official artwork for high profile events, including: the 2010 World Cup, 2011 Centennial Celebration for the City of Fort Lauderdale, the President's Challenge for President's Council on Physical Fitness and Sports, NASCAR Sprint Cup series, NHL All-Star Game, Belmont Stakes, Daytona 500, Indy 500, Andy Roddick Charity Gala, U.S. Tennis Foundation, CMA Awards, Grammy Awards,  Daytime Emmy Awards, NBC's "Today" Summer Concert Series, and the President William J. Clinton Presidential Foundation, among many others. See his entire collection at www.fazzino.com
About Galerie Artima
Artima Gallery has been representing the 3D pop art of Charles Fazzino in France and England for more than 12 years.  Proprietors Olivier and Nicolas Waltman boast decades of experience in the fine art world and have helped guide the careers of prominent pop artists such as Volker Kühn and Jörg Döring at their locations in Paris, Miami, and London. Please visit www.charles-fazzino.co.uk
About Diplomat Magazine
Diplomat magazine provokes intelligent discussion from the heart of the diplomatic community in London. This 65-year-old publication provides a unique insight into the minds of the most prominent world leaders and governments. Diplomat's mix of international writers, political commentary on world affairs and interviews with Heads of Mission makes it essential reading for the diplomatic community and many foreign professionals living in Europe.  Visit www.diplomatmagazine.co.uk for more information.
Media Contacts:
In the UK: Jeannine Saba, Diplomat Magazine, js@diplomatmagazine.com, 07802 815 336
In the US:  Julie Maner, Museum Editions, Ltd., Jmaner@fazzino.com, 914-654-9370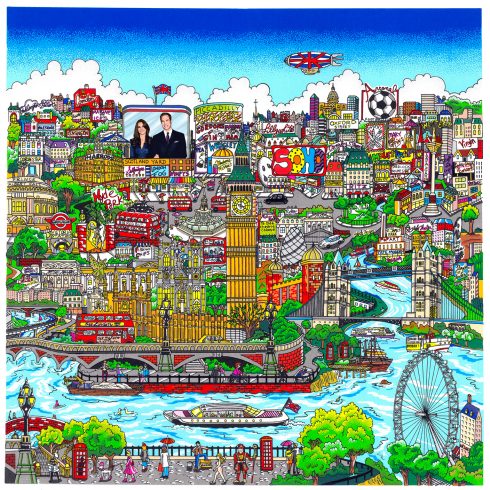 "Touch Down in London Town" by Charles Fazzino
###