FOR IMMEDIATE RELEASE
Emily Robbins, Dallas Cowboys PR, 972-556-9359 or erobbins@dallascowboys.net
Weitz Communications, Charles Fazzino PR, 917-327-6245 or weitzcomm@aol.com
SIXTH-ANNUAL TASTE OF THE NFL: THE ULTIMATE COWBOYS TAILGATE PARTY TOUCHES DOWN SUNDAY, APRIL 25 AT THE GLASS CACTUS
Cowboys Ware and Spears Team Up With Top Restaurant Chefs for a Winning Evening  Benefiting the North Texas Food Bank's Children's Feeding Programs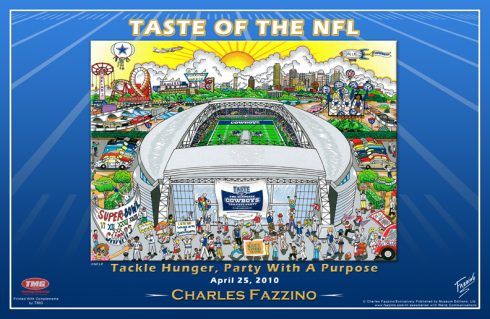 DALLAS (April 20, 2010) — Football fans and foodies alike will be waiting all week for Sunday night to party with a purpose alongside Dallas Cowboys and top restaurant chefs at Taste of the NFL: The Ultimate Cowboys Tailgate Party – – benefiting the North Texas Food Bank (NTFB).  The sixth-annual off-season cookout, hosted with Abacus and presented by Lockheed Martin, touches down Sunday, April 25 from 7:00 to 10:00 p.m. at the Glass Cactus in Grapevine.
This year's Tailgate Party has all the ingredients of a winning evening including: 22 gourmet food stations hosted by chefs representing some of DFW's hottest restaurants; a spirited evening of live music by headliner Emerald City and a VIP set by The Satin Soul Band; silent auction items featuring great escapes, experiences and one-of-a-kind memorabilia; Charles Fazzino – famed pop artisan and official event artist – signing free copies of his rendering of the new Cowboys stadium in Arlington; in addition to current and former Cowboys players and appearances by Dallas Cowboys Cheerleaders.  Guests can also purchase raffle tickets at a cost of one for $10 or three for $25, or up their ante with a high-end Tiffany & Co. raffle.  Fund-a-Cause opportunities enabling bidders to sponsor children utilizing NTFB programs at a $100, $500, $1,000 and $2,500 commitment level will also be available in a live auction-style format.
"This fun event has steadily grown into a springtime tradition, and we extend our gratitude to players DeMarcus Ware and Marcus Spears, Cowboys legend Preston Pearson, Kent Rathbun, and all of this year's chefs and sponsors," said Jan Pruitt, President and CEO of the North Texas Food Bank.  "You have teamed up to embrace our cause at a time of elevated need when more and more families are seeking food assistance to make ends meet."
This year's participating chefs will take time out from their kitchens to give back, they are:
Kent Rathbun, Annika Sacher & Timo Plaza – Abacus/Jasper's/Rathbun's Blue Plate Kitchen
Ty Thoren – Ama Lur, Gaylord Texan
Tommy Simpson – AMPM Restaurant & Lounge
Marcos Rodriguez – Bolla, Stoneleigh Hotel & Spa
Blythe Beck – Central 214
Scott Romano – Charlie Palmer, Joule
Michael Lane & Mario Flores – City Café/PersonalChefClick.com
Laurel Wimberg – Craft Dallas
David Holben – Del Frisco's Double Eagle Steak House
Domingos Noronha — Fogo de Chaó Churrascari
Bronwen Weber – Frosted Art Bakery
Daniel Winans – The Grill on the Alley
Gustavo Ibarra – Morton's The Steakhouse
Anthony Bombaci – Nana, Hilton Anatole
Rodman Shields – Nick & Sam's Steakhouse
James Williams – North Texas Food Bank
Cristiana Acerbi Ginatta – Paciugo Gelato & Caffé
James Johnson – Pappas Bros. Steakhouse
Jaime Corona – The Place at Perry's
T.J. Lengnick – Shinsei
Gilbert Garza – Suze Restaurant
Monterrey Lopez – Terilli's Restaurant
All proceeds support the NTFB's children's feeding programs including the Food 4 Kids backpack, Kids Cafe and pantry programs, which aim to tackle childhood hunger here in North Texas.  Score event tickets for $125/single or $225/pair at www.ntfb.org until Thursday, April 22 at noon, or purchase them at the door while supplies last.  Guests must be 21 or over to enter.  Make a night of it by booking a special $99 room rate at the Gaylord Texan; mention code TNFL10 when making reservations.
Special thanks to Gene and Jerry Jones Family Charities and this year's venue host the Glass Cactus at the Gaylord Texan Resort; presenting sponsor Lockheed Martin; "Go Green" sponsor VHA, Novation, Provista; "Touchdown" sponsors Lockton, Inc. and U.S. Foodservice; "Field Goal" sponsor Albertsons and Mike and Danya Anderson; sponsors who provided in-kind services, donated ingredients to complete the tailgate spread or contributed fabulous raffle and silent auction items; the entire Host committee; and all the dedicated volunteers committed to passionately pursuing a hunger-free community.   Last year alone, Taste of the NFL: The Ultimate Cowboys Tailgate Party raised a record-setting $175,000 and provided more than 700,200 meals to kids in need across North Texas.
The NTFB's Food 4 Kids program provides backpacks full of nutritious food to chronically hungry children identified by local schools each semester, and for the second year will continue its outreach through summer school.  The Food Bank will additionally extend its operation of 22 Kids Cafes during June, July and August – serving kids 3-5 days a week at camps and other programs in at-risk areas.  Many families will also rely on local food pantries to provide sustenance while school is out.  But work remains to be done.  According to recent USDA data, Texas leads the nation with the highest rate of food insecure children; currently 1 in 5 lives in a household without consistent access to nutrition.Please visit the Food Bank's website at www.ntfb.org for additional event information, to learn more about the nonprofit's programs serving children or to see how you can help make a difference today. For every dollar donated, NTFB is able to provide four meals those in need.
About North Texas Food Bank
The North Texas Food Bank (NTFB) is a nonprofit hunger relief organization that distributes donated, purchased and prepared foods through a network of 1,146 feeding programs in 13 North Texas counties. The NTFB supports the nutritional needs of children, families and seniors through education, advocacy and strategic partnerships. Close the Gap is the NTFB's 3-year initiative to unite the community to narrow the food gap by providing access to 50 million meals annually by 2011. Founded in 1982, the NTFB is a member of Feeding America (feedingamerica.org). *Last year, the NTFB provided access to 37 million meals through its efforts. Each month agency pantries distribute food to more than 53,000 families and on-site meal programs serve 435,000 meals/snacks. Every dollar donated to the NTFB provides four meals for the hungry. *Represents Fiscal Year 2009; July 1, 2008- June 30, 2009
About Gene and Jerry Jones Family Charities
For the past 21 years, Jerry Jones and his family have owned and operated the Dallas Cowboys with a management style that places just as much emphasis on community leadership as it does on the goal of winning the Super Bowl. The dominant theme which underscores the Cowboys role in the community is to maximize the visibility, energy and celebrity of the world's most recognizable sports franchise and use those dynamic forces as a powerful means to helping others. The results on the field have brought championships to Dallas. The results away from the field have touched the lives of thousands. For more information about the Dallas Cowboys community outreach initiatives, please contact the Dallas Cowboys Community Relations Department at (972) 556-9959 or visit "Community" at www.dallascowboys.com.
About Charles Fazzino, The Official Artist of the Taste of the NFL: The Ultimate Cowboys Tailgate Party 
Charles Fazzino — one of the most popular artists in the world — is an officially licensed artist of the National Football League and the Super Bowl XLV scheduled to be played at Cowboys Stadium on February 6, 2011.  He is also the official artist of the 2010 President's Challenge for President's Council on Physical Fitness and Sports. Charles Fazzino is an officially licensed artist of Major League Baseball and the 2010 MLB All-Star Game, as well as the 2012 U.S. Olympic Team.   He has also recently created official artwork for high profile events, including: NASCAR Sprint Cup series, NHL All-Star Game, Belmont Stakes, Daytona 500, Indy 500, Andy Roddick Charity Gala, U.S. Tennis Foundation, CMA Awards, Grammy Awards,  NBC's "Today" Summer Concert Series, Rosie O'Donnell's For All Kids Foundation and the President William J. Clinton Presidential Foundation, among many others. Charles Fazzino's artwork can be viewed at:  www.fazzino.com.
# # #