Come Fly Away, Come Fly with Me…In NYC
Just as everyone is ready for a break from old man winter, Charles Fazzino releases his newest New York City limited edition, "Come Fly Away, Come Fly with Me…In NYC."  It is a breathe of fresh spring air…colorful, and clear, and uplifting. "I meant for this piece to evoke freedom of spirit and new beginnings," said Fazzino. "The sky is full of white fluffy clouds and wherever you go in NYC, you can look up and feel a sense of adventure and playfulness. The butterflies and dragonflies are a metaphor as they launch on their flight of joy and whimsy. It's a fun piece and a fun look at the city I love.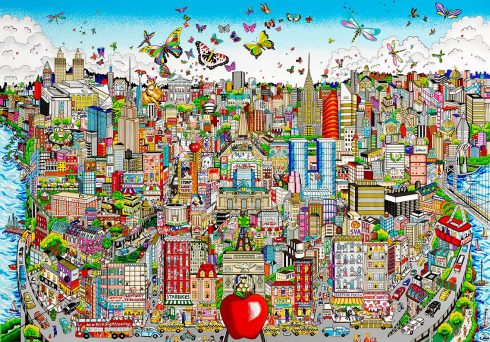 New York City: Fazzino's Favorite Subject
"Come Fly Away, Come Fly with Me…NYC" is just the latest in a very long line of Charles Fazzino tributes to The City that Never Sleeps. In fact, if you considered the entire Fazzino collection spanning over 30 years all together, you would find a pretty accurate historical picture of New York's transformation. "I love New York and will always love New York," Said Fazzino. "I grew up here. It's my hometown and no matter where I go in the world, collectors ask me to keep drawing it. Have no fear…I can't imagine my collection without NYC as a centerpiece."
Contact your favorite authorized Fazzino gallery for purchasing information or drop us an email at info@fazzinocollectors.com.