Media Alert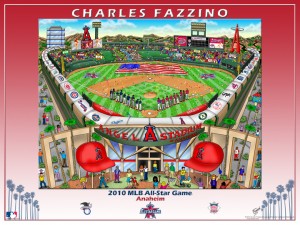 Media Contact:
Matt Bennett/714-315-9302
Weitz Communications
June 9, 2010
FOR IMMEDIATE RELEASE:
FAMOUS 3-D POP ARTIST CHARLES FAZZINO RELEASES HIS COMMEMORATIVE ART COLLECTION FOR THE 2010 MLB ALL-STAR GAME®
Charles Fazzino To Be Present At MLB All-Star FanFest  Scheduled July 9-13 At  Anaheim Convention Center
Portion of Poster Proceeds to Benefit The Boys and Girls Club of Anaheim
Fazzino Will Attend Art Opening at Art One Gallery on July 11th in Santa Monica
LOS ANGELES, CA — Famous 3-D Pop Artist Charles Fazzino — an official licensee of Major League Baseball Properties — will be present for his one-man exhibition featuring his commemorative artwork for the 2010 MLB All-Star Game at Art One Gallery, 13-31 3rd Street Promenade in Santa Monica, CA on Sunday, July 11 at 4-8 p.m.  He  will also be present, and his 2010 MLB All-Star Game Commemorative Artwork will be on display and available for public sale, at MLB All-Star FanFest at Anaheim Convention Center from July 9-13. A portion of the proceeds from his All-Star Game posters sold there will be donated to the Boys and Girls Club of Anaheim.
Charles Fazzino's 2010 MLB All-Star Game Commemorative Artwork will consist of limited-edition prints, posters and other collectibles, including hand-painted limited-edition baseballs and home plates.  The 2010 MLB All-Star Game will be played at Angel Stadium on Tuesday, July 13, and broadcast on FOX Sports.
Charles Fazzino — stated from his studio in New York, "I am honored to have been licensed by Major League Baseball Properties to create Commemorative Artwork for the 81st MLB All-Star Game. I hope that my artwork has captured the magic of this legendary game and Angel Stadium.  I am also very excited about meeting collectors, and baseball fans, alike, at both Art One Gallery and MLB All-Star FanFest.

This year marks the seventh time Charles Fazzino has commemorated the All-Star Game for Major League Baseball. This year's collection will include the All-Star Game limited edition artwork, in addition to a Disney-themed baseball limited edition 3-D print, an Anaheim Angels limited edition 3-D print, an open edition All-Star Game poster, a limited edition official hand-painted All-Star Game Baseball, and a variety of other hand-painted original equipment sculptures.
Contact your favorite authorized Fazzino gallery for purchasing information,  email us at info@fazzinocollectors.com, or visit us at the MLB All-Star Fanfest the Anaheim Convention Center.
View the rest of the Fazzino Baseball Art Collection on www.Fazzino.com