Charles Fazzino is heading to New Orleans next week for a series of events related to the annual NFL Kickoff. As the official artist for the Kickoff, he's created a special commemorative poster and will be signing posters for fans on Tuesday, September 7th from 6pm – 8pm at the new NFL Shop for Women, a pop-up boutique customized for female fans in New Orleans! It's located at 3932 Magazine Street. The shop will be open through September 18th and every Tuesday, the NFL will host a public "shopping party" which will include special promotions, raffles, and door prizes. Come meet Charles there on Tuesday, September 7th and if you have any questions about the shop, you can email NFLSHOPforWomen@nfl.com.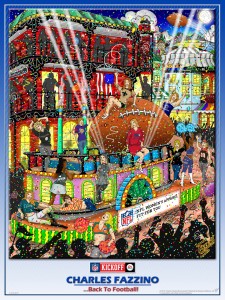 Win a Free NFL Kickoff Poster
We're giving away 10 autographed copies of Charles Fazzino's official 2010 NFL Kickoff Poster. All you have to do to win is post a comment to this blog, telling us your predictions for who will be playing in Super Bowl XLV in Dallas in January. Post your comments before September 13, 2010, 12 pm. We'll pick 10 winners at random to win a free poster!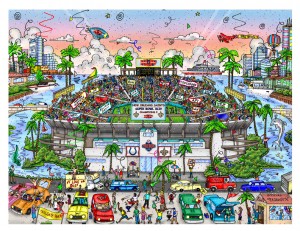 Charles Fazzino to Sign Saints Super Bowl Championship Art Collection at the Superdome!
The New Orleans Saints are hosting the 2010 NFL Kickoff Game to start the season on Thursday, September 9th and Charles Fazzino will be there! From 5pm until Kickoff, he will be a the Official New Orleans Saints Team Shop at the Superdome (between gates A and B) to meet collectors and sign posters, 3-D pop art, and originals from his Saints Super Bowl XLIV Championship Art Collection!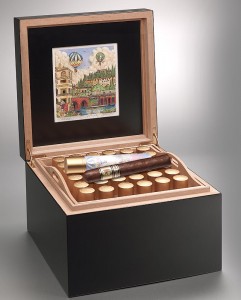 Charles Fazzino to Autograph Custom-Designed Humidors at Don Juan Cigar Shop
On Wednesday, September 8th from 4pm-7pm, Charles Fazzino will appear at the Don Juan Cigar Shop at 3200 Severn Avenue, in Metairie, LA to meet customers and sign his artworks and gorgeous, custom-designed Montecristo and Romeo y Julieta humidors and cigar tubes. For more information about this signing, call the Don Juan Cigar Shop at 504-889-2600