FOR IMMEDIATE RELEASE: April 4, 2014
Internationally renowned 3D pop artist Fazzino partners with The Mural Kings to release the first 3D Pop/Graffiti Fine Art Collaboration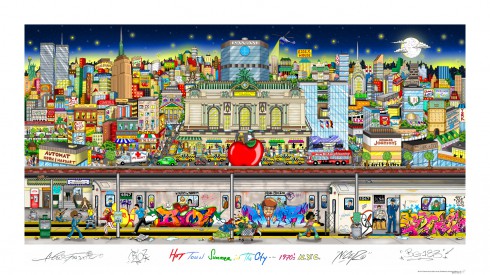 For Immediate Release
New Rochelle, NY – –Acclaimed 3D pop artist Charles Fazzino and legendary Bronx-based graffiti artists TATS Cru have come together to create a collaborative limited edition artwork titled "Hot Town, Summer in the City…1970's NYC." The first partnership of its kind finds the contemporary pop artist Fazzino rendering 1970's New York City complete with subway cars "tagged" by the famed graffiti group. The artwork will be released as a limited edition in the signature three-dimensional Fazzino style by Fazzino's publishing company, Museum Editions, Ltd.
Fazzino, famous for his 3D cityscape work, painted this New York Cityscape with The Mural Kings in mind. "I wanted to create a period piece that not only shows what New York City was like around the time of the great graffiti artists, but give the TATS Cru a canvas worthy of their talent," said Fazzino. "I am honored to be working with them and thrilled with the way our styles fit  together so naturally."
This artwork represents the first time that Charles Fazzino has rendered the World Trade Center in a limited edition artwork since 9-11. The piece is a journey through classic 1970's NYC and includes some of the most famous nostalgic landmarks including the Pan Am Building, Howard Johnson's, Crazy Eddie's and The Roseland Ballroom. "I wanted to remind people what it was like then….take them back in time….bring them fond and fun memories. The addition of the TATS Cru art just makes it a more genuine remembrance. Graffiti art was such an important part of popular culture back then and these guys were, and still are, the best."
TATS Cru is based in New York City and operate today as professional muralists, whose work in aerosol has transformed graffiti into a commercially beneficial art form. They are sought after all over the world to paint distinctive, vibrant, attention-grabbing murals for celebrities, businesses and individual collectors. "Growing up in New York City in the 70's graffiti was part of our landscape," says Bio. "We are very excited and honored to have collaborated with Charles Fazzino on this project, it has taken us back to relive our childhood. Yes we miss the Old New York."
"Hot Town, Summer in the City" limited editions and originals will be available for sale starting in mid-April, 2014. They will be sold through any authorized Fazzino Art Gallery or collectors can email info@fazzinocollectors.com for purchasing information.
About Charles Fazzino
Charles Fazzino — one of the most popular artists in the world — is most well-known for his unique, detailed, and vibrant three-dimensional style. His work is exhibited in hundreds of fine art galleries and museums in twenty different countries. He is an officially licensed artist of the National Football League and the Super Bowl (2000-present), Major League Baseball and the MLB All-Star Game (2003-present), and the US Olympic Team (2000 to present) .  He has also recently created official artwork for high profile events, including: the 2011 Centennial Celebration for the City of Fort Lauderdale, the President's Challenge for President's Council on Physical Fitness and Sports, NASCAR Sprint Cup series, NHL All-Star Game, Belmont Stakes, Daytona 500, Indy 500, Andy Roddick Charity Gala, U.S. Tennis Foundation, CMA Awards, Grammy Awards,  Daytime Emmy Awards, NBC's "Today" Summer Concert Series, Rosie O'Donnell's For All Kids Foundation and the President William J. Clinton Presidential Foundation, among many others. You can view more of Fazzino's work at www.fazzino.com.
About TATS Cru
TATS Cru is a group of New York City-based professional muralists whose work in aerosol has transformed graffiti into a commercially beneficial art form. Their innovative advertising and design services are the ideal choice for businesses wishing to reach contemporary urban consumers. TATS Cru's custom aerosol services are available to businesses, corporations, and individual consumers in major metropolitan areas throughout the world – making them a leader in the implementation fo creative marketing strategies. Their elaborate, colorful, and attention grabbing custom works of art stand out and are noticed by all. You can view more of TATS Cru's work at www.tatscru.com.
Digital files of "Hot Town Summer in the City…1970's NYC" is available for publication.
Media Contacts:
For Charles Fazzino: Julie Maner, Museum Editions, Ltd., Jmaner@fazzino.com, 914-654-9370
###