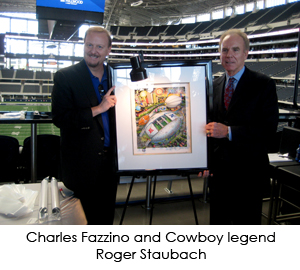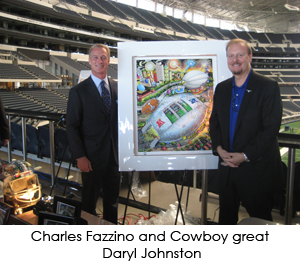 NORTH TEXAS SUPER BOWL XLV HOST COMMITTEE TEAMS UP WITH NORTH TEXAS COMMISSION FOR 100-DAY XLV COUNTDOWN LUNCHEON
Event on the Field of Cowboys Stadium Celebrates the Final Drive to Region's First Super Bowl
NORTH TEXAS – The 100-day countdown to the most anticipated sporting event in North Texas begins with a joint luncheon of the North Texas Super Bowl XLV Host Committee and the North Texas Commission on Thursday, Oct. 28 at Cowboys Stadium. The 100-day XLV Countdown Luncheon will commemorate the journey from the successful Super Bowl XLV bid in 2007 to kick-off on Sunday, Feb. 6, 2011.
"Super Bowl XLV is a premier event that will put North Texas in the spotlight on the global stage," said Bill Lively, President and CEO of the North Texas Super Bowl XLV Host Committee. "The impact our region will feel from this event will be long-lasting in terms of economic and community development."
The luncheon will be held on the field at Cowboys Stadium and will unveil the commemorative artwork of Super Bowl XLV by Charles Fazzino, one of the most popular and highly-collected pop artists of all time. Officially licensed by the NFL to create limited edition art, Fazzino captures the spirit of each Super Bowl host city through a mastering of 3D pop art. Those attending the luncheon will have the first opportunity to purchase Fazzino's unique Super Bowl XLV artwork. NFL fans can also view Fazzino's work at the NFL Experience during Super Bowl XLV week.
"We are excited to come together with the North Texas Super Bowl XLV Host Committee to kick off the countdown to the best example of the power of regional collaboration," said Mabrie Jackson, President and CEO of the North Texas Commission. "This is an event that joins municipalities, businesses and education institutions together for the single goal of putting on a spectacular event for the entire world to see."
About the North Texas Commission
Established in 1971, the North Texas Commission is a unique regional non-profit consortium of businesses, cities, counties, chambers of commerce, economic development entities and higher education institutions in the North Texas region. The Commission is the one and only public-private regional organization committed to enhancing the overall economic vitality and quality of life of North Texas. NTC improves the economy, infrastructure and lifestyle of North Texas by leading and directing regionally cooperative initiatives to accomplish objectives in four primary areas: transportation, aviation, environment and long-range strategies.