Meet our Latest Featured Fazzino Collector:
In His Own Words:
All Fazzino pieces capture the essence of its subject, such as the "CITY OF LOVE;" the city of Paris. This was my first piece, a gift to me. I had lived in Paris all my younger life and now reside in Miami. Yet I always miss the European ambiance. When I first saw this piece, it felt like looking through a window down into the city. I've never seeing an art that captured my attention like Fazzino's rendition of Paris. It is like he scooped up Paris and threw it into his work, down to the eclectic people. Each character is radiating a life of its own. There is always something new in the scene that I have never noticed before. Whenever I feel nostalgic, all I have to do is look at it. I now will always have Paris in my bedroom. It's definitely the "City of Love."
Since this first piece I acquired 13 more along the road ( Rockin' around the USA, New York goes Round and Round, A Star of Light, A Light for Israel, Bienvenidos a Miami, Along the Sunshine State, A Star of Hope, South Beach, Point Game Set Match, Ca c'est Paris, La joie de Vie Paris, Ooh La La Paris, For the Love of France) and my only fear is to run out of wall. Thank you Mr. Fazzino for bringing life into those empty walls and it is always a pleasure to meet you every time you come to the Miami area.
-David Sultan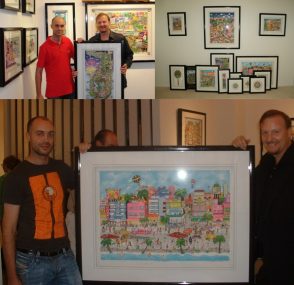 Win a Fazzino Book for Your Collection
Are you an avid Charles Fazzino art collector? Are you proud of your collection? You should be! We want to see it too.  We always hear stories about which pieces you've chosen, how you framed them, where they are displayed, and what they mean to you.
Send us some information about yourself and you could be our next FEATURED FAZZINO COLLECTOR.  Send us your name, address, phone number, and email address, along with 3 low resolution photos of you with your Fazzino collection and an explanation (250 words or fewer) about why you're such an avid fan! We'll enter you in the next drawing!
Email your low resolution jpegs to info@fazzinocollectors.com
or mail your information and photos to:
Museum Editions, Ltd.
32 Relyea Place
New Rochelle, NY
As a featured collector, your pictures and essays will be featured on Charles Fazzino's blog and you'll receive a personally dedicated copy of Charles Fazzino's latest art book Now Playing on Broadway.
Meet all of our Featured Fazzino Collectors on the Art Collectors Club and Featured Collectors Page!