Today's Featured Gift of the Day – Fazzino Greuzi Switzerland Puzzle!
On the First Day of Fazzino, we offer to you…20% off the Charles Fazzino Greuzi Switzerland Puzzle. Celebrate the beauty of Switzerland with this 1,000 piece puzzle by renowned 3D artist Charles Fazzino. Puzzle measures 26.76″ x 18.93″. There is nothing like a Fazzino art puzzle. Spectacular table top eye candy in stunning 3D! A large variety of puzzle art images are available, and if you do one, you will want to get more. Have a Fazzino-themed evening with your friends and family – or purchase two and pit one team against another to see who gets that final piece first! The fun is endless. 3D puzzle fun. Fazzino style.
MUST ORDER BY December 16th for Christmas delivery.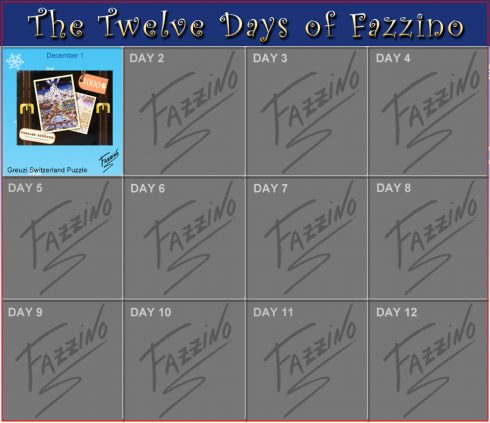 Regular Price: $14.95 plus shipping and handling
Today ONLY: 20% Off (while supplies last)!
To Order: Email info@fazzinocollectors.com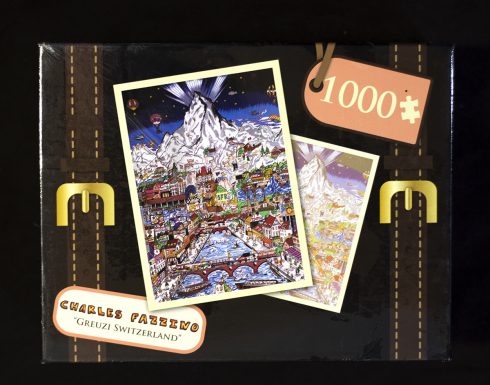 Win a Fazzino Greuzi Switzerland Puzzle!
We're giving one of these puzzles away for FREE. Just post a comment on this blog or on the Fazzino Facebook Fan Page answering our holiday question of the day by midnight tonight and you'll have the chance to be our randomly selected winner.
Question of the Day: Finish the Buddy the Elf Quote: " Don't be a Cotton headed Ninny __________."
Visit the Charles Fazzino Gift Shop for even more holiday gift ideas and Thank You for playing along with our TWELVE DAYS OF FAZZINO.
WE WISH YOU A HAPPY, HEALTHY, AND JOYOUS HOLIDAY SEASON!!