Furniture Sharehouse is Westchester County's first, and only furniture bank, and are doing wonderful work. They collect gently used furniture from the public and redistribute it, free of charge, directly to families in need. Their vision is that every child should have a bed to sleep in and every family should have a table and chairs to gather around at mealtime. The reality is that everyday in Westchester County, NY, people sleep on the floor, eat on the floor, and store their clothes in garbage bags. How can kids arrive at school in the morning able to focus if they don't have a bed to sleep in and can't get a good night's rest? Furnishings are the foundations of a home, helping people regain self-respect so they can advance from adversity. Furniture Sharehouse leads the way!
Home is Where the HeART Is Art Sale
In addition to furniture, many people also donate lamps, mirrors, rugs… and ARTWORK! Over the years, they have accumulated more art than their clients can ever absorb into their small apartments, so they've decided to share, while raising money for their cause. On Thursday, April 7th, from 6-9 pm at Serendipity Labs in Rye, NY, Furniture Sharehouse will hold it's first public art sale and YOU ARE INVITED! What a fantastic opportunity to view and purchase from one of the most eclectic and interesting collections of art ever assembled. The proceeds from the fundraising event benefit Furniture Sharehouse's core mission.
Charles Fazzino was so intrigued by what they are doing, and the idea of an art sale to benefit the organization, that he has donated artwork to the sale as well! It's the limited edition he created to commemorate the Sochi Olympic Games in 2014. With the upcoming Rio Olympic Games in Brazil, everyone's mind are on TEAM USA!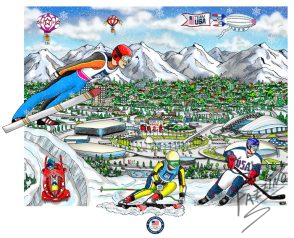 The Art Sale will Include:
Sale of artwork
Auction of chairs painted by local artists
Live Auction of Outstanding Works
Beer from Yonkers Brewery, Wine, and some Delectable Finger Foods
A Photo Booth for Fun!
So join Furniture Sharehouse for the First, "Home is Where the HeART is" Art Sale
When: Thursday, April 7, 2016, 6pm-9pm
Where: Serendipity Labs, Theodore Fremd Avenue, Rye, NY