Charles Fazzino and Gourmet Coffee & Chocolate Purveyor 2|Beans Collaborate on Delectable Collectors Holiday Chocolate Box
Holiday Box the First of Several Initiatives to Merge Two Great Art Forms – Chocolate and Pop Art
For Immediate Release
New Rochelle, NY – –Acclaimed 3D pop artist Charles Fazzino and Manhattan-Based European-Style Coffee and Chocolate Shop 2|Beans are proud to announce a new alliance to present gourmet chocolate in a whole new way…as artistic canvas. The Gourmet shop has released a line of new products featuring a series of exclusively designed images by Fazzino. The products include:
A limited edition collectors gift box featuring Fazzino's artwork inside and out, and a very special selection of Fazzino-stenciled pralines/bon bons, all produced by New York based gourmet chocolatier Chocolate Moderne. The 12 piece box of pralines sells for $55 and the 24-piece box sells for $90. Each comes with a removable Fazzino fine art print (suitable for framing) inside the box.
A unique series of photographic chocolate bars featuring some of Fazzino's most popular 3D pop art releases printed right onto the white chocolate. Each bar retails for $15.99
 A special selection of 2|Beans private label chocolate bars featuring exclusive Fazzino artwork on the wrappers will also be available later this year or early in 2014.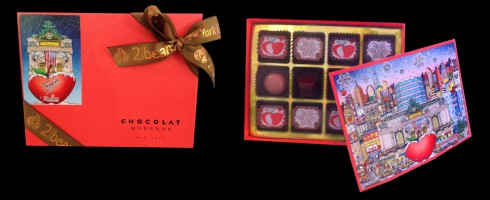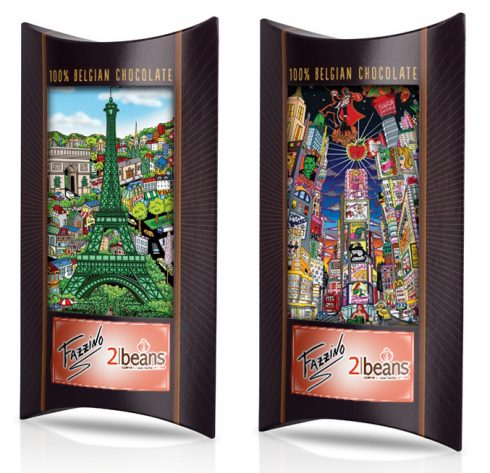 "I love chocolate," stated Charles Fazzino." Chocolate is an art form all its own. It can be delicate and subtle or intense in flavor. There are so many varieties and like a fine wine, a good piece of chocolate is a wonderfully decadent treat. I am thrilled to see my artwork used to enhance the chocolate experience."
2|Beans is located at 100 Park Avenue in New York City and is open Monday – Friday, 7am – 7pm– Saturday, 9am-4pm
About Charles Fazzino
Charles Fazzino — one of the most popular artists in the world — is most well-known for his unique, detailed, and vibrant three-dimensional style. His work is exhibited in hundreds of fine art galleries and museums in twenty different countries. He is an officially licensed artist of the National Football League and the Super Bowl (2000-present), Major League Baseball and the MLB All-Star Game (2003-present), and the US Olympic Team (2000 to present) .  He has also recently created official artwork for high profile events, including: the 2011 Centennial Celebration for the City of Fort Lauderdale, the President's Challenge for President's Council on Physical Fitness and Sports, NASCAR Sprint Cup series, NHL All-Star Game, Belmont Stakes, Daytona 500, Indy 500, Andy Roddick Charity Gala, U.S. Tennis Foundation, CMA Awards, Grammy Awards,  Daytime Emmy Awards, NBC's "Today" Summer Concert Series, Rosie O'Donnell's For All Kids Foundation and the President William J. Clinton Presidential Foundation, among many others. You can view more of Fazzino's work at www.fazzino.com.
About 2|Beans
2beans is the premier New York City destination for high-quality, hand-selected chocolates from the United States and around the world, paired with expertly prepared coffee. 2beans believes having passion means fully understanding the places, people, and processes behind our coffee and chocolate. That's why we are more than just a coffee shop and chocolate store; we're a full experience. We invite our guests to take time to learn about our chocolates, enjoy an espresso at our sit-down coffee bar, or relax next to our fireplace with a gourmet pastry. Savoring these experiences—that's what passion is all about.
About Chocolate Moderne
Chocolat Moderne is a luxury artisan chocolate company founded by Joan Coukos Todd in 2003.  Celebrating its tenth anniversary this year with back to back sofi GOLD AWARDS for Outstanding Chocolate, The Specialty Food Association's equivalent of the Oscar, the company's lines spans over 175 products including filled chocolate bonbons, boxed assortments, chocolate bars, and drinking chocolates.  Coukos Todd is considered a creative visionary in the artisan chocolate industry, and the chocolates are celebrated for their beauty, innovative flavors and superior taste.  Everything is hand-made in small batches on West 20th Street, using the highest quality chocolate from Valrhona and over 100 natural ingredients sourced from all over the world.
Media Contact:
For Charles Fazzino: Julie Maner, Museum Editions, Ltd., Jmaner@fazzino.com, 914-654-9370
For 2|Beans: Steve Kravets, skravets@2beans.com  212 9378914
###