Fazzino and hearts just…well…go together! And here's another New York heart from the Master of 3D Pop Art, "Night and Day…The Heart Beats for NY."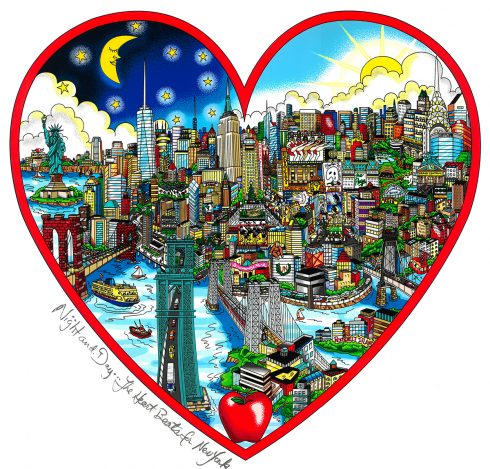 The Heart Beats for NY
Fazzino's whimsical style and vibrant colors always seem to work well with heart shapes. The artist has rendered many of his most favorite subjects in the popular shape: New York, Broadway, Paris, London…and more! "Night and Day…" is a unique forced perspective of New York City. It's almost a fish-eye view of Manhattan as if you were standing either in Brooklyn or Queens, looking out over the bridges. The city is compressed from both sides to fit within the heart shape.
"New York is the city that never sleeps," said Charles Fazzino. "I have this piece going from the dark of night to the light of day because if you love New York, you love it around the clock." The edition is available both on paper and on aluminum.
Contact your favorite authorized Fazzino Art Gallery for purchasing information for "Night and Day…The Heart Beats for New York" or visit our current editions page for all of the currently available Fazzino artwork.