Enter to Win Fazzino Artwork by Answering Fun Online Trivia Questions
We have questions. Do you have the answers?
We're still so excited by THE Fazzino RIDE that we thought it might be cool to host a fun trivia contest based on the newest RIDE. Join us on Facebook on Fridays for our trivia game. We'll ask a question on our Fazzino Pop Art page based off of the Fazzino artwork on THE RIDE.  You answer.
Out of the correct answers, we'll pick 3 random people to receive an original signed Fazzino poster of THE Fazzino RIDE!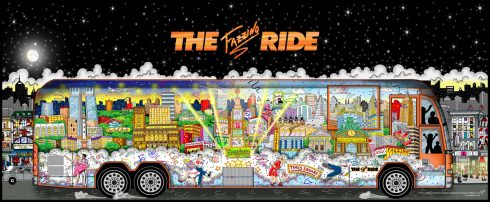 A Summer of Free Fazzino Trivia
We'll be running a new trivia question every other Friday until the end of August, so make sure to stop by and join the fun!  Mark your calendars now so you don't miss a single chance to scoop up some free artwork.
June 1st
June 15th
June 29th
July 13th
July 27th
August 8th
August 24st
In the weeks we are "off" head over to Experience THE RIDE page. You might find they have trivia questions too!