Calling all NY Street Performers to Join the Pop Art Movement
Pop art caused people to rethink what is art and what can be the inspiration of art. Inspiration and ideas for Pop Art paintings are often drawn from aspects of everyday life, particularly in American culture.  It's only a small step away to rethink what the actual canvas is that pop art belongs on.
Can A Bus be a Canvas? Can a NY Street Be a Stage?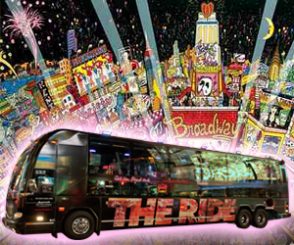 We think so!  This coming May we will be proudly unveiling the newest art installation of Charles Fazzino pop art in New York City on THE RIDE.
Proclaimed by NBC's "Today Show" as "the hottest way to see New York," THE RIDE is an unforgettable New York City tourist attraction.  With a creative spin on the more conventional theatrical performance, THE RIDE gives all riders a facing-the-street view of New York's active streetscape with frequent stops featuring multi-talented street performers. The newest RIDE will be wrapped with Fazzino pop art and be focused on various sites and scenes of New York City displayed in the art.
But that's not all!
Performance Artists, Street Performers and All Means of the Creative Join In
THE RIDE is hosting an open casting calls video contest where talented performers will join the "cast" of the upcoming FAZZINO RIDE!
THE RIDE's Open Video Casting Call contest encourages anyone with a unique, quirky, crowd-pleasing talent to submit a video of themselves, in action, via the THE RIDE's Facebook page. Ten (10) finalists will be selected based on how many people "like" their video through voting.  The final ten will be given a live audition opportunity and from that process, winners will be selected.  THE RIDE's contest winners will be given a chance-of-a-lifetime to perform up to 10 times a week for THE RIDE's guests.  The person could become New York's next sidewalk sensation, a living breathing portion of Fazzino art…and get paid for it!
The deadline to upload a video to the THE RIDE'S Facebook page is April 8th, so get filming!!
Join the Pop Art Movement; Vote for Your Favorite Fazzino Inspired Street Performance

People vote via "thumbs up" or "thumbs down" buttons and can vote once a day until the contest ends, so even if you are not a talented street performer, you can help us choose who is going to be the next pop art performance artist!
To enter or vote in THE RIDE's Open Casting Call Video Contest just go over to the EXPERIENCE THE RIDE  on Facebook.  Look for the Open Casting Call app and click to enter or vote!