Internationally renowned 3D pop artist Fazzino partners with premiere gaming company
to create the first 3D, limited edition, fine art Scrabble® Game
For Release: September 23, 2014
New Rochelle, NY – Acclaimed 3D pop artist Charles Fazzino and premiere custom game maker Winning Solutions are proud to announce the release of "3D SCRABBLE®: World Edition by Charles Fazzino." This innovative and stylish three-dimensional game is the first of its kind for the Scrabble franchise. It is a follow up to the wildly successful "3D MONOPOLY®: The Fazzino New York Edition", all 2000 of which sold out in under one year.
The 3D Gaming Series was the result of collaboration between Winning Solutions, a boutique marketer of specialized and collectible versions of classic games, and Charles Fazzino, the world's most popular three-dimensional artist. The marriage of these two entities has produced a series of truly exceptional, unique, and inspired board games. "3D SCRABBLE®" is a one-of-a-kind, hand-signed and numbered limited edition collector's item. Only 2,000 of these games will be produced and each will come with its own Certificate of Authenticity.
The deluxe, oversized SCRABBLE® game board is encased in a beautifully appointed wood cabinet with a glass top. It sits on top of a rotating game board and features custom, three-dimensional, global-themed artwork by Charles Fazzino. The oversized glass tiles are stored in a luxurious embroidered fabric tile pouch, and the game is housed in its own deluxe storage box.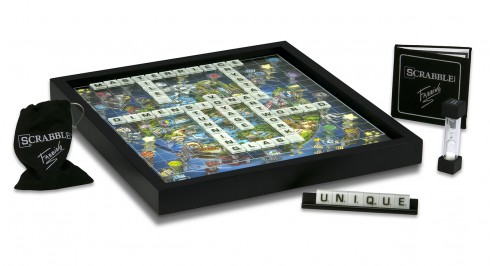 The game features custom components, including:
Deluxe oversized wood cabinet with glass top
Rotating Game Board
Embroidered fabric SCRABBLE tile pouch
100 oversized glass letter tiles with fabric backing
Deluxe scorebook with embroidered fabric cover
Sand timer with custom wood end caps
Hand-Signed and Numbered by Charles Fazzino
Certificate of Authenticity
Premium packaging for storing
Deluxe storage box for game components
"I was so proud of our 3D MONOPOLY® game. My collectors haven't stopped raving about it," said Fazzino from his New York Studio. "I was thrilled when Winning Solutions suggested we move on to SCRABBLE®. SCRABBLE® is known and loved far and wide. Everyone around the world has played SCRABBLE® including me and my family. It's a big part of our culture and I'm glad that my artwork is being used to enhance the playing experience. I think once again, many people will be torn between actually playing it and hanging it on their wall!"
3D SCRABBLE®: World Edition by Charles Fazzino" will be available for sale starting in mid-November, 2014. It will be sold in boutique and specialty stores throughout the country, will be featured in the Frontgate Fall Catalog, and can be ordered directly from the manufacturer www.winningsolution.com/scrabble-3d-fazzino-world-edition.
About Charles Fazzino
Charles Fazzino — one of the most popular artists in the world — is most well-known for his unique, detailed, and vibrant three-dimensional style. His work is exhibited in hundreds of fine art galleries and museums in twenty different countries. He is an officially licensed artist of the National Football League and the Super Bowl (2000-present), Major League Baseball and the MLB All-Star Game (2003-present), and the US Olympic Team (2000 to present) .  He has also recently created official artwork for high profile events, including: the 2011 Centennial Celebration for the City of Fort Lauderdale, the President's Challenge for President's Council on Physical Fitness and Sports, NASCAR Sprint Cup series, NHL All-Star Game, Belmont Stakes, Daytona 500, Indy 500, Andy Roddick Charity Gala, U.S. Tennis Foundation, CMA Awards, Grammy Awards,  Daytime Emmy Awards, NBC's "Today" Summer Concert Series, Rosie O'Donnell's For All Kids Foundation and the President William J. Clinton Presidential Foundation, among many others. You can view more of Fazzino's work at www.fazzino.com.
About Winning Solutions
Winning Solutions is an industry leading manufacturer and marketer of unique versions of classic Hasbro brands like Monopoly®, Scrabble®, Clue®, Yahtzee®, and others. Winning Solutions has collaborated with Hasbro to bring over 200 of these special edition games to Market. In addition, Winning Solutions has partnered with key retailers like LLBean, Restoration Hardware, Frontgate Catalog, Tween Brands, and others to develop exclusive co-branded product. The mission of Winning Solutions is to create stylish, custom, and deluxe edition games that deliver a unique gameplay experience to the consumer.
Media Contact:
For Charles Fazzino: Julie Maner, Museum Editions, Ltd., Jmaner@fazzino.com, 914-654-9370
For Winning Solutions: Michael Doyle, mfd@winningsolution.com, 978-525-2815
SCRABBLE is a trademark of Hasbro in the United States and Canada.
###