Media Contacts:
For Charles Fazzino: Julie Maner,
Museum Editions, Ltd., Jmaner@fazzino.com, 914-654-9370
For the USA Sevens: Matt Guidish,
Kirvin Doak Communications, mguidish@kirvindoak.com, 702-737-3100
January 13, 2014
FOR IMMEDIATE RELEASE
Charles Fazzino Commissioned
as Official Artist for USA Sevens
International Rugby Tournament and Festival in Las Vegas
USA Sevens Returns to Sam Boyd
Stadium in Las Vegas with Exhilarating Matchups and
an International Extravaganza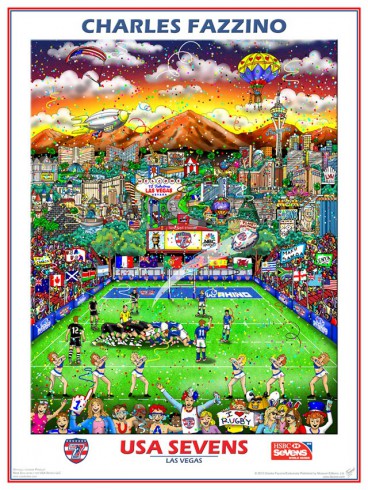 New Rochelle, NY  – Internationally acclaimed 3D Pop artist Charles Fazzino has been commissioned by United World Sports  to create the official artwork for the 2014 USA Sevens International Rugby Tournament and Festival, which is Round 4 of the HSBC Sevens World Series of Rugby. The three-day elite-player, international tournament runs from January 24-26, 2014 at Sam Boyd Stadium in Las Vegas, Nev. Team USA and teams from 15 other countries will compete for points in the HSBC Sevens World Series standings while surrounded by one of the most electrifying atmospheres in sports provided by fans from the competing nations.
Fazzino's artwork will grace the cover of the event program and be available for purchase as the official event poster and limited edition fine artwork. Fans can visit the Fazzino art exhibit and purchase both posters and fine artwork at the annual Rugby Fan Festival.  The art will also be integrated throughout the event on marketing and consumable materials. "I am proud to create artwork for the prestigious USA Sevens Rugby Tournament," stated Fazzino from his New York Studio. Fazzino's artwork captures the signature high-energy atmosphere for which the tournament is known, incorporating the excitement of the tournament play, costumed fans, and international flavor of the event.
 "We are honored Mr. Fazzino is adding his time,  talent and creativity to capture the true essence of USA Sevens with our official 2014 tournament artwork," said Gary Low, director of licensing and merchandise for United World Sports. "Mr. Fazzino's remarkable artwork will surely resonate with our passionate fan base in attendance from throughout the world."
In addition to availability on-site at the USA Sevens Tournament, all interested fans may purchase the Fazzino USA Sevens Rugby Art Collection online at World Rugby Shop.
USA Sevens is the fourth stop in the HSBC Sevens World Series which also includes tournaments in Australia, Dubai, South Africa, New Zealand, Japan, Hong Kong, England and Scotland. Tickets are still available for purchase to the event at www.usasevens.com/las-vegas.
About Charles Fazzino
Charles Fazzino — one of the most popular artists in the world — is most well-known for his unique, detailed, and vibrant three-dimensional style. His work is exhibited in hundreds of fine art galleries and museums in twenty different countries. He is an officially licensed artist of the National Football League and the Super Bowl (2000-present), Major League Baseball and the MLB All-Star Game (2003-present), and the US Olympic Team (2000-present).  He has also recently created official artwork for high profile events, including: the 2011 Centennial Celebration for the City of Fort Lauderdale, the President's Challenge for President's Council on Physical Fitness and Sports, NASCAR Sprint Cup series, NHL All-Star Game, Belmont Stakes, Daytona 500, Indy 500, Andy Roddick Charity Gala, U.S. Tennis Foundation, CMA Awards, Grammy Awards,  Daytime Emmy Awards, NBC's "Today" Summer Concert Series, Rosie O'Donnell's For All Kids Foundation and the President William J. Clinton Presidential Foundation, among many others. You can view more of Fazzino's work at www.fazzino.com.
About United World Sports
The newly formed United World Sports (UWS) LLC hosts a dynamic line up of emerging sports properties and has quickly become the leader at delivering premier international sports properties to U.S. audiences. UWS' flagship property is the USA Sevens Rugby Tournament held annually in Las Vegas. This exciting 16-nation, three-day tournament has become the largest attended rugby event in North America with more than 70,000 fans coming to Sam Boyd Stadium. Broadcast live on NBC Sports the tournament serves as the only U.S. stop on a nine-city world tour and reaches more than 350 million television households worldwide. Additional UWS properties include the Las Vegas Invitational, America's Rugby Seven's Cup, the College Rugby Championship (CRC), the Varsity Cup and the Pro Soccer Challenge.
About USA Sevens Rugby
The annual USA Sevens international rugby tournament is the premier rugby event in North America as well as the fourth event out of nine in the HSBC Sevens World Series. USA Sevens is the only North American stop in the series. Fans in attendance will see 16 international rugby sevens teams play 45 matches during a three-day competition in an attempt to gain points in the Sevens World Series standings. Fans can stay updated on all the latest USA Sevens Rugby news, events and details by following on Facebook (USA Sevens Rugby Tournament And Festival) and Twitter (@USASevensRugby).
Played on the same size field as traditional 15-player rugby, rugby sevens is played with just seven players per team. Matches have seven minute halves with two minute intervals for pool and knock-out matches. The fast pace and short duration of matches makes every moment of the action thrilling for spectators.
#             #             #