Charles Fazzino and Wolf & Wylan to Raise Funds for Men's Health Issues
3D Pop Artist Lends His Artistic Skills to Social Cause Based Initiative Coinciding with Annual "Movember Movement," New Canvas of Choice the Pocket Square
For Immediate Release: November 14, 2013
New Rochelle, NY – –Acclaimed 3D pop artist Charles Fazzino and new cause-minded fashion accessory brand Wolf & Wylan are proud to announce the release of a series of "Movember" themed pocket squares to benefit the Prostate Cancer Foundation. During November, men around the globe grow out their moustaches in an effort to garner monetary donations to support the cause. Wolf & Wylan and Charles Fazzino are getting behind the cause by bringing back the era of the sharp-dressed man, with the launch of pocket squares.
In signature Fazzino style, the pocket square art depicts seven cities around the world, all with their iconic landmark buildings sporting a Stache, showcasing and embodying the collective international movement for the cause. The artwork and pocket squares are being displayed tonight, November. 14 at Chelsea Piers, in New York City from 6:30 – 8:30 p.m.
"This is more than self-expression or bringing back the lost art of gentlemanliness, this is about a new generation of gentleman…one that blends style, character and philanthropy," said Jesse Redniss and Brian Solis, co-founders of Wolf & Wylan. "We are humbled by Fazzino's support and we believe his incredible design will not only enhance pockets around the world, together we will make an impact on men's health! And that's what this is really about…helping."
Wolf & Wylan has commissioned Fazzino to create an exclusive piece of artwork to be reproduced on 100% silk, custom, hand-rolled men's pocket squares. The 14.5" x 14.5" squares are available in six different color schemes and 100% of the Net Proceeds are being donated to the Movember Prostate Cancer Foundation cause.
"I am honored that Wolf & Wylan approached me to design their Movember-themed pocket square," said Charles Fazzino. "One of the most gratifying parts of being an artist is utilizing my work to make a statement about social causes….to help tell the story and raise funds for organizations such as Wolf & Wylan, that help others and bring awareness to important issues. Men's Health is obviously close to my heart and so many suffer with diseases like prostate cancer. I'm proud to be able to contribute to the effort."
In addition to the pocket squares, the artwork is available as a series of open edition and limited edition three-dimensional fine art prints. Both the pocket squares and fine artwork are available for sale on IndieGoGo.com
www.indiegogo.com/projects/wolf-wylan/x/5164035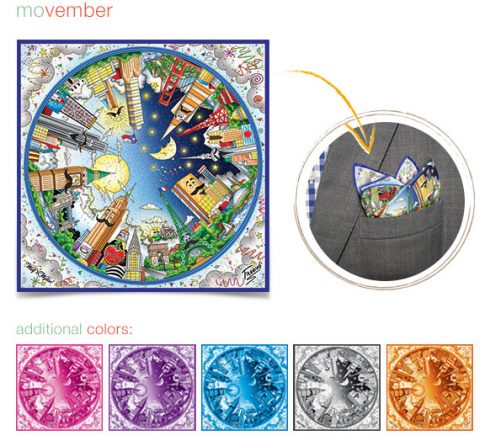 Donors can contribute to the cause at a variety of levels from $1 to $25,000 and in return receive one or more of the most fashionable pocket squares ever made, or a wonderfully detailed and vibrant 3D artwork by Charles Fazzino, the Master of 3D Pop Art….or Both!
On November 14th from 6:30-8:30pm, Charles Fazzino will be joined by NY Jets Punter Ryan Quigley, Miss New York 2013 Joanne Nosuchinsky, and PIX11 Sports Anchor Dryol Joyner to formally unveil the Fazzino "Movember" art and pocket square collection at a media and invitation-only artist reception at the Sports Center at Chelsea Piers in New York City. Fazzino's sports art collection is currently on exhibit at the Sports Center and attendees to the reception will be treated to a complementary poster signing by the artist and the first public viewing of the "Movember" pocket square.
About Charles Fazzino
Charles Fazzino — one of the most popular artists in the world — is most well-known for his unique, detailed, and vibrant three-dimensional style. His work is exhibited in hundreds of fine art galleries and museums in twenty different countries. He is an officially licensed artist of the National Football League and the Super Bowl (2000-present), Major League Baseball and the MLB All-Star Game (2003-present), and the US Olympic Team (2000 to present) . He has also recently created official artwork for high profile events, including: the 2011 Centennial Celebration for the City of Fort Lauderdale (Museum of Art/Fort Lauderdale "Faces of Fort Lauderdale" Exhibition), the Daytime Emmy Awards, The Jefferson Awards, The Warrior Games, the President's Challenge for President's Council on Physical Fitness and Sports, NASCAR Sprint Cup series, NHL All-Star Game, Belmont S CMA Awards, Grammy Awards, and the President William J. Clinton Presidential Foundation, among many others. You can view more of Fazzino's work at www.fazzino.com.
About Wolf & Wylan
The Mission of "Wolf & Wylan" is to bring story back to the world of high end garments and accessories and bring fashion focused classic elegance back to men's attire. Wolf & Wylan is setting out to distinguish itself as a Bespoke/Tailored approach to Men's and Women's fashion accessories with a cause behind its offerings and a story to tell behind every piece.
In the same vein as Warby Parker Glasses or TOMS shoes, Wolf & Wylan will utilize the power of Social Platforms and word of mouth to spread its mission and address specific Social Cause based initiatives. Feel Good, Look Better.
Media Contact:
For Charles Fazzino: Julie Maner, Museum Editions, Ltd., Jmaner@fazzino.com, 914-654-9370
For Wolf & Wylan: Michelle Van Jura, Intersect Communications, michelle@intersectcom.com, 310-420-4062
###