Fun-for-kids New York City Art Online Coloring Sheets
For Immediate Release: November 5, 2012
New Rochelle, NY – – Internationally acclaimed 3D Pop artist Charles Fazzino has announced the introduction of a new and innovative interactive Color Your Own Fazzino page on his website.. The page allows aspiring artists of all ages to download, print, and share some of Fazzino's most beloved images in coloring book format.  Images will changes on a monthly basis, giving collectors and fans, the opportunity to have some fun and "color like Fazzino."
"I'm excited about my new website page," said Fazzino from his New York pop art studio. "I know it's only a very small gesture, but on the heels of hurricane sandy and the devastation she has brought to theNew York area, we decided to give folks the chance to bring a little color back to the city. I've been asked for many years to do a coloring book with some of my images. I actually put one out many years ago. This page allows me to put it out there for everyone to enjoy for free. I hope people have fun with it."
Fans are being invited to submit their colored drawings to Fazzino's art publishing company, Museum Editions, Ltd. (info@fazzinocollectors.com) for potential inclusion on the Charles Fazzino art blog.
WHO: Charles Fazzino, acclaimed 3D Pop Artist
WHAT: Coloring App Launch
WHEN: Friday, November 2, 2012
FEATURED ARTWORK:  Ghosts, Good Times, and Gridlock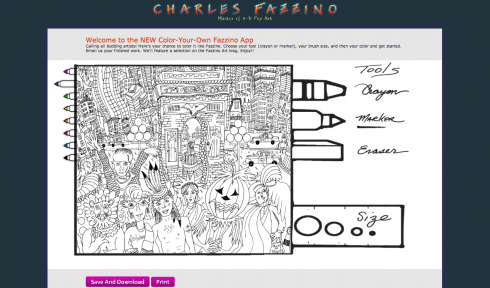 About Charles Fazzino
Charles Fazzino — one of the most popular artists in the world — is most well-known for his unique, detailed, and vibrant three-dimensional style. His work is exhibited in hundreds of fine art galleries and museums in twenty different countries. He is an officially licensed artist of the National Football League and the Super Bowl (2000-present), Major League Baseball and the MLB All-Star Game (2003-present), and the US Olympic Team (2000-present).  He has also recently created official artwork for high profile events, including: the 2011 Centennial Celebration for the City of Fort Lauderdale, the President's Challenge for President's Council on Physical Fitness and Sports, NASCAR Sprint Cup series, NHL All-Star Game, Belmont Stakes, Daytona 500, Indy 500, Andy Roddick Charity Gala, U.S. Tennis Foundation, CMA Awards, Grammy Awards,  Daytime Emmy Awards, NBC's "Today" Summer Concert Series, Rosie O'Donnell's For All Kids Foundation and the President William J. Clinton Presidential Foundation, among many others. You can view more of Fazzino's work at www.fazzino.com.
Media Contact: For Charles Fazzino: Julie Maner, Museum Editions, Ltd., Jmaner@fazzino.com, 914-654-9370
###