The National Football League has taken over the fourth floor of Macy's Herald Square and set up a temporary NFL Superstore that will be open now through Super Bowl Sunday, and Fazzino's football art collection is a featured attraction. The store features more than 30,000 square feet of football heaven. Macy's will also be hosting several other players throughout the next two weeks including Carl Banks, Osi Umenyiora, Jim Brown, and Emmit Smith. It's THE place to go to gear up for Super Bowl XLVIII.  It's open every day during regular Macy's business hours.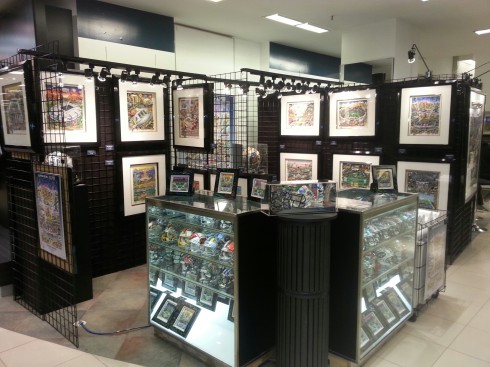 Macy's Family Day Celebration
To add to the excitement, Macy's is hosting a series of NFL player and celebrity autograph signing sessions as well as a Family Day celebration on January 25th.  Come down on Family Day from 1pm to 3pm on Saturday, the 25th and have the opportunity to work with Charles Fazzino as he paints a full scale mural of his Super Bowl XLVIII artwork. The other events Charles will be a part of include:
o  1/26 Player signings, Sean Landeta – NFL Shop at Super Bowl, 2 pm Tentative
o   1/27 Quinton Coples NY Jet, 5 pm Tentative
o   1/28 Tour of Tri-State Airports – American Airlines – Admirals Clubs LaGuardia 9:30 am, JFK 2pm, Newark 4:30pm
o   1/30 Antrel Rolle, 4 pm Tentative
We hope to see you at the NFL Shop at Macy's Herald Square!