Charles Fazzino has treat in store for you this month: SUPER BOWL TRIVIA!
In addition to the 3000 Fans contest on the Charles Fazzino 3d Pop Art Fan Page, throughout the month of January, we will test your football knowledge with a trivia question every Monday and Friday.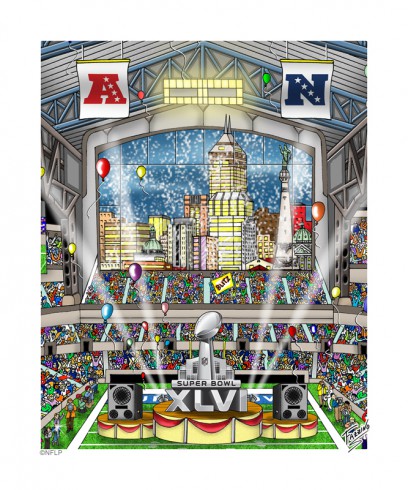 For the 11th year in a row, a Charles Fazzino poster will pay homage to the NFL's biggest game of the year: Super Bowl XLVI. The 2012 Super Bowl will be February 5 in Indianapolis, and on the road to that exciting weekend, we're going to give away one signed Limited Edition Fazzino Pop Art Super Bowl Poster each Monday and Friday on Facebook!
Super Bowl 2012 Trivia Prize: Signed Charles Fazzino Poster – The Details
First, join 3000 fellow Charles Fazzino Fans on the Fan Page by pressing the "Like" button. Find the Facebook page here: http://www.facebook.com/FazzinoPopArt
Then every Monday and Friday at noon (12 p.m. EST), there will be a new Super Bowl trivia question. Answer the question correctly and your name goes in the hat to be chosen as the winner of a signed Limited Edition Super Bowl XLVI: Indianapolis poster designed by legendary 3D Pop Artist Charles Fazzino!
Mark your calendar so you don't miss the trivia dates:
Week 1: January 16 & January 20
Week 2: January 23 & January 27
Week 3: January 30 & February 3
Brush up on your football facts, good luck and we'll see you on Facebook!