Olympic Games Tokyo 2020 in 2021
After a long year's delay, the Olympic Games Tokyo 2020 are scheduled to kick off in Tokyo, Japan.  And these Games might just be the most challenging by far, not only for Team USA but the world. Charles Fazzino is celebrating the pageantry and the ceremony by releasing his eleventh Olympic Games limited edition.
"I am honored to have worked with the United States Olympic Committee since the Sydney Games in 2000," said Fazzino. "But these games in Tokyo are going to be something special. These athletes have faced unprecedented obstacles due to the pandemic and were forced to wait an extra year to compete.  I hope that my artwork accurately captures the magnitude of these Games and celebrates our Team USA Olympic heroes."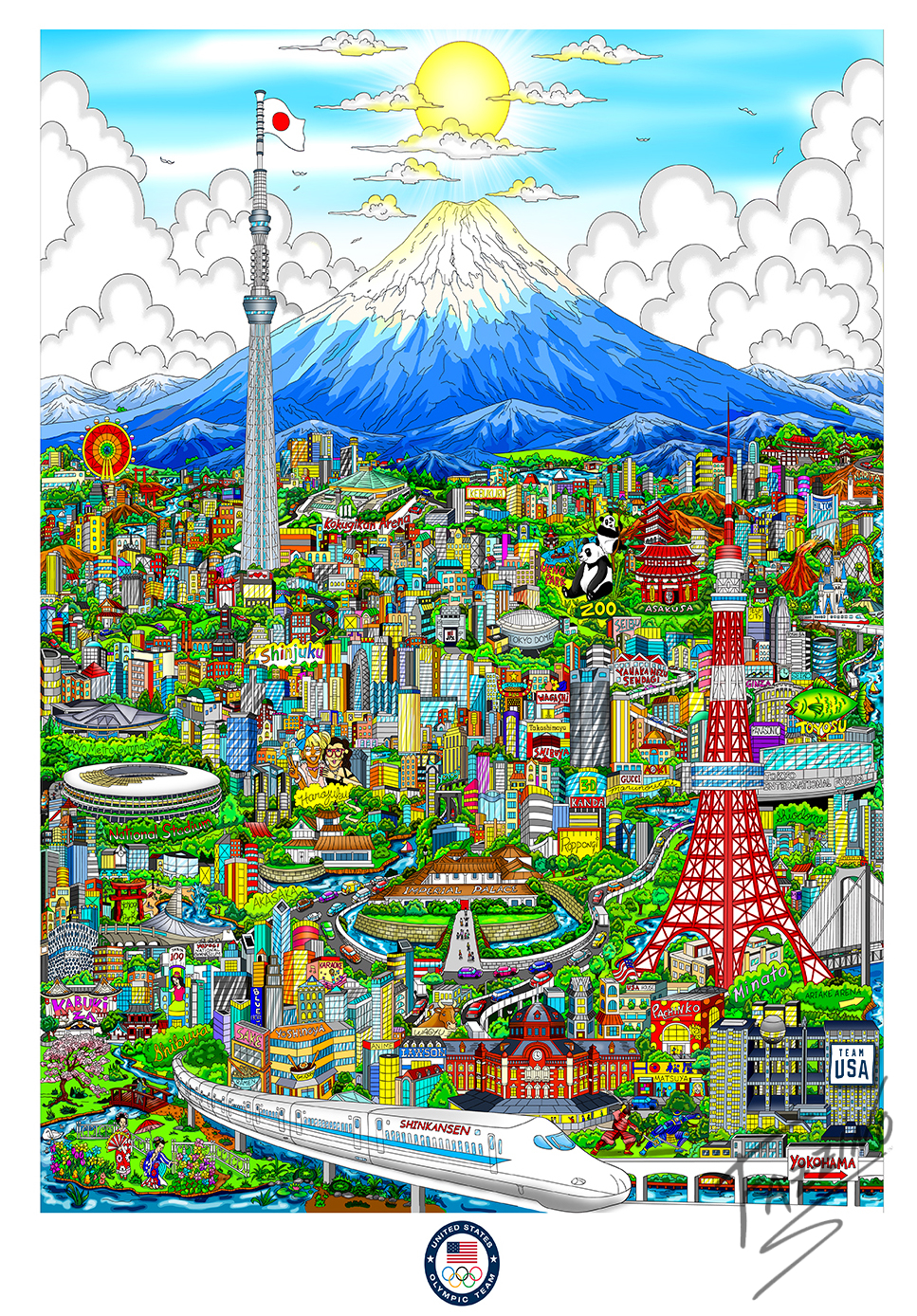 The Tokyo Olympic Games 3D fine art print is available in a very limited edition of 99 Deluxe pieces. The image measures 22″ x 28″. Contact your favorite authorized Fazzino art gallery or email us at info@fazzinocollectors.com for purchasing information. The artwork is also available in an open edition 7″ x 8″ mini print version available in our gift shop.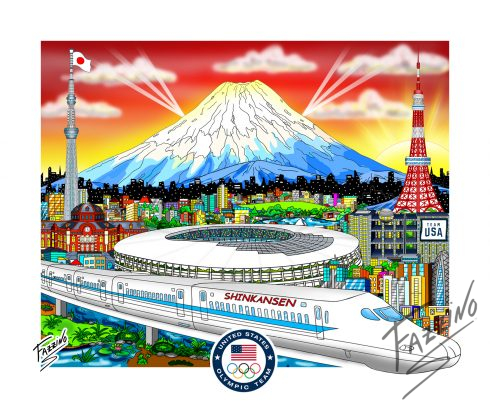 Fazzino's Favorite Olympic Moments
Since the Sydney Olympic Games in 2000, Charles Fazzino has collected some incredible memories. From meet and greets with Olympic gold medalists to interactive workshops with art students, Fazzino has had his fair share of Olympic wins.
2002 Winter Olympic Games in Salt Lake City, Utah
During the 2002 Olympic Games in Salt Lake City, Utah, Olympic Gold Medalist Bonnie Blair hosted an art gallery show where hundreds lined up for autographed posters.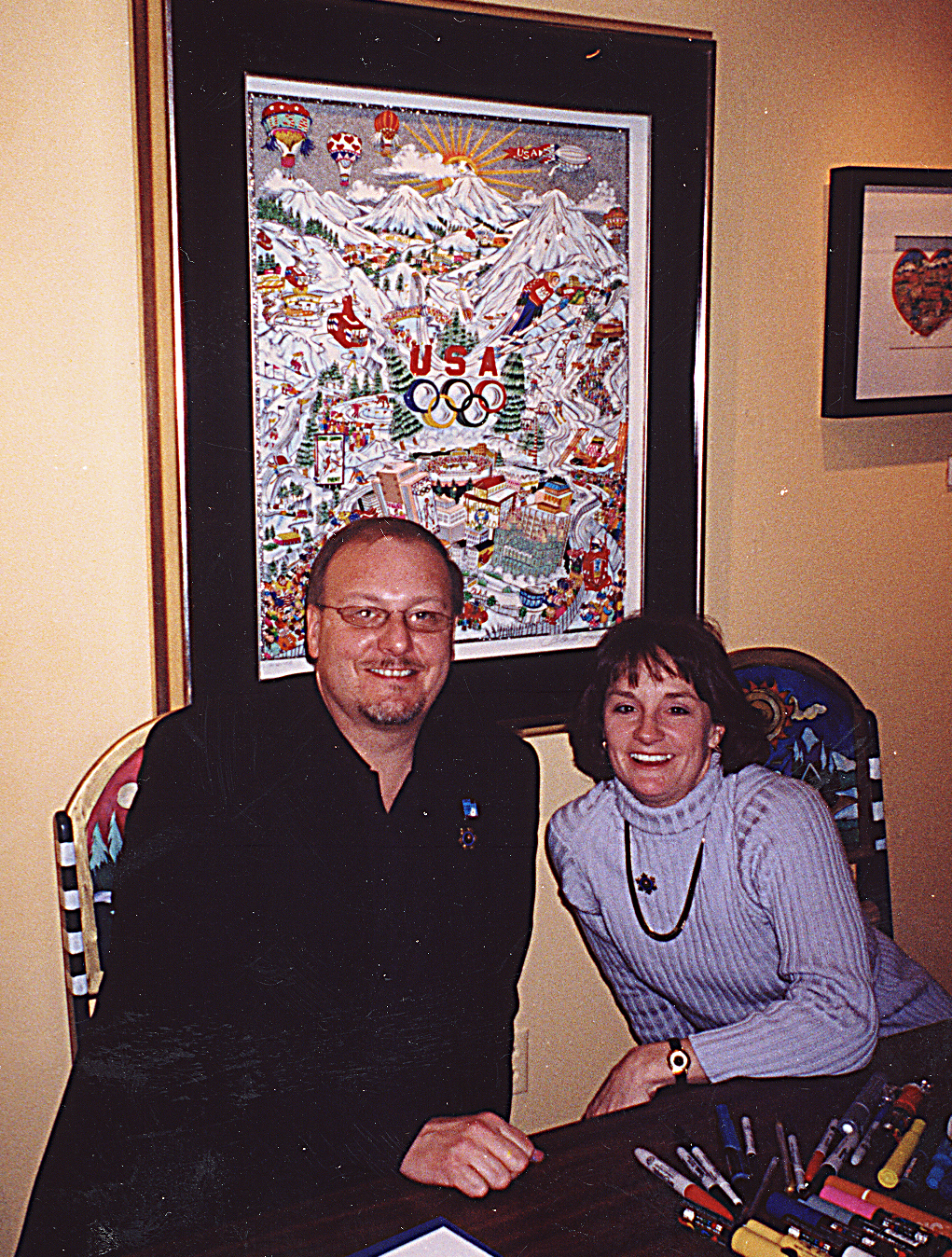 2008 Summer Olympics in Beijing, China
In 2008, Fazzino appeared on NBC's Today Show to debut his new collection of co-branded Olympic collectors pins. The entire collection sold out during his signing at the NBC Experience Store in NYC immediately following the broadcast.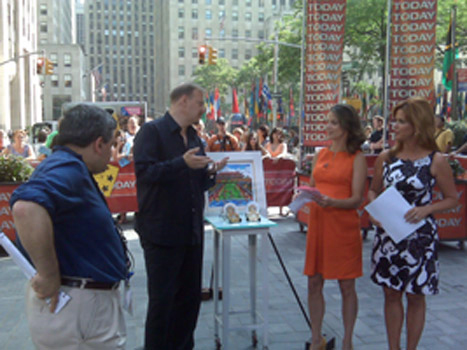 2012 Summer Olympics in London, United Kingdom
Charles Fazzino spent a week in the UK during the 2012 Olympic Games at the USA House to sign posters. He also had the honor to conduct an interactive workshop with students at The American School in London.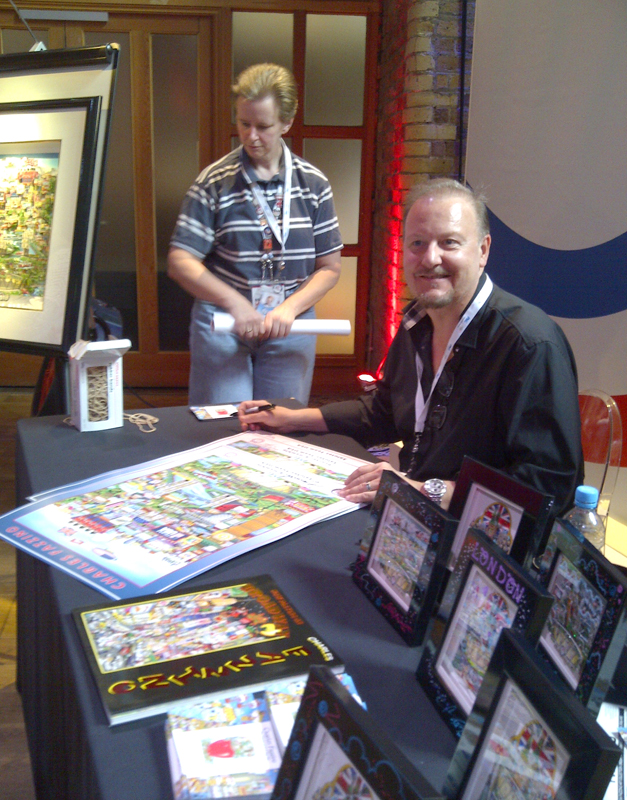 "The Olympic Games are a worldwide celebration. I have been blessed with the opportunity to take part in the festivities and along the way, I hope I've been able to accurately capture them in my own personal style."
The Fazzino Olympic Art Collection
When viewed in its entirety, the Fazzino Olympic Art Collection is a compelling visual history of Team USA since the 2000 Olympic Games in Sydney, Australia. The collection has not only included fine art, but also limited edition collectors pins, posters, and silver medal coins.
The Olympic Games Opening Ceremonies are on July 23rd. Bring the Games home with Charles Fazzino.
USA! USA! USA!