Today's Featured Gift of the Day –
Sochi Olympics Collectors Pins

On the Sixth Day of Fazzino, we offer to you…20% off Charles Fazzino's exclusive set of 3-layer, 4″ diameter oversized Sochi Olympic Games collectors pins. Each comes in a felt-lined collectors case with a see-through top. Can be purchased as a set or individually
Set of Two Pins: Go USA! and Celebrating Sochi available as a set or individually
Very Limited Quantity
3-Layered pin and 4″ in diameter
Comes in a felt-lined collectors case with see-through top

$59.95 each or $110 for the set of two + shipping
– See more at: https://www.fazzino.com/gift-shop/#sthash.qIeW3E0X.dpuf
Set of Two Pins: Go USA! and Celebrating Sochi available as a set or individually
Very Limited Quantity
3-Layered pin and 4″ in diameter
Comes in a felt-lined collectors case with see-through top

$59.95 each or $110 for the set of two + shipping
– See more at: https://www.fazzino.com/gift-shop/#sthash.qIeW3E0X.dpuf
MUST ORDER BY December 18th for Christmas delivery.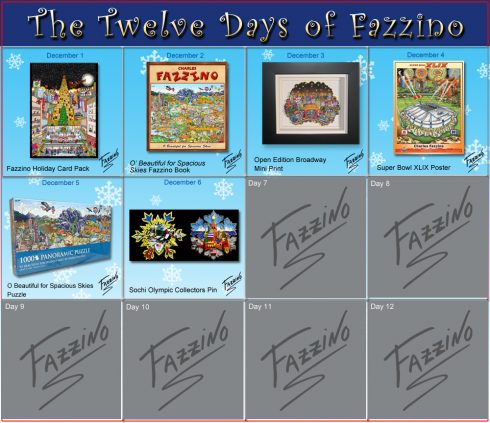 Regular Price: $59.95 each or $110 for the set of two (plus shipping and handling)
Today ONLY – 20% Off (while supplies last)!
To Order: Email info@fazzinocollectors.com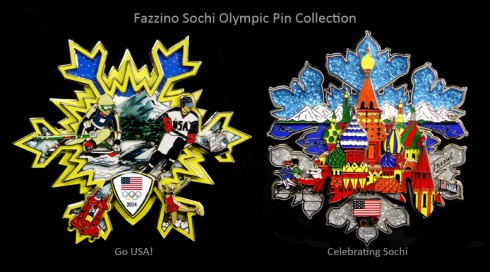 Question of the Day: In the Harry Potter and the Philosopher's/Sorcerer's Stone what Christmas present does Harry receive in his first semester at Hogwarts? 

Visit the Charles Fazzino Gift Shop for even more holiday gift ideas and Thank You for playing along with our TWELVE DAYS OF FAZZINO.
WE WISH YOU A HAPPY, HEALTHY, AND JOYOUS HOLIDAY SEASON!!