Today's Featured Gift of the Day –
Super Bowl XLIX Poster

On the Fourth Day of Fazzino, we offer to you…20% off the Charles Fazzino Super Bowl XLIX Poster. Super Bowl XLIX will be played on Sunday, February 1, 2015. Fazzino is celebrating this exciting event with his 15th Super Bowl fine art poster.  It measures 18″ x 24″ and captures the scene as he imagines it will be on that memorable Sunday afternoon. MUST ORDER BY December 18th for Christmas delivery.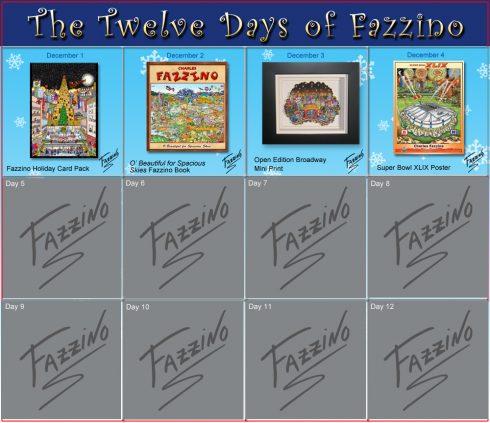 Regular Price: $25 unsigned/ $40 signed by Charles Fazzino…. plus shipping and handling
Today ONLY – 20% Off (while supplies last)!
To Order: Email info@fazzinocollectors.com
Plus, we're giving one of these Super Bowl Posters away for FREE. Just post a comment on this blog or on the Fazzino Facebook Fan Page answering our holiday question of the day by midnight tonight and you'll have the chance to be our randomly selected winner.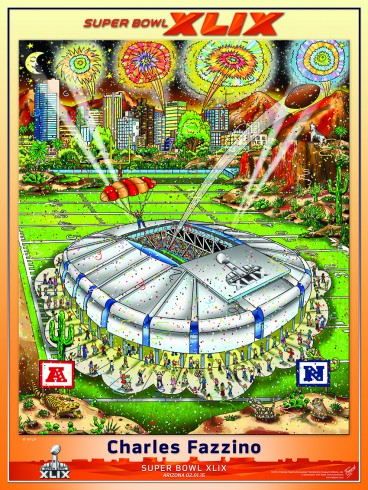 Question of the Day:  Santa Claus gets kidnapped and tortured in which 1993 Walt Disney musical fantasy Tim Burton remake?

Visit the Charles Fazzino Gift Shop for even more holiday gift ideas and Thank You for playing along with our TWELVE DAYS OF FAZZINO.
WE WISH YOU A HAPPY, HEALTHY, AND JOYOUS HOLIDAY SEASON!!