"What a Wonderful World" is the latest 3D pop art release from Charles Fazzino. Originally titled "Fazzino's Wonders of the World," it's core focus is on just how incredible our world is...all of the most incredible and incredulous sights and sounds you can find. "I originally wanted this to be an homage to the seven wonders of the world," said Fazzino. "But in doing my research, I found out that there are dozens of interpretations as to the top seven wonders....so I just started drawing every one I could find and the image just came together. It's a bit different in feel to my last world-themed piece but I think in a way, it's more profound and more poignant."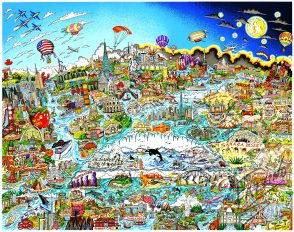 With all of the
cityscape artwork
Charles Fazzino has created over his 30-year career, he didn't actually try to encompass the whole world into one image until 2010 when he released "We are the World Mural." A masterpiece at almost 6 feet in length, this mural took almost three years to bring to fruition. Fazzino followed that up with an equally successful, if slightly less ambitious "It's a Small World Mural" in 2014. Both of these editions sold out within months of release. "I really never thought about trying to fit the whole world into one image before," said Fazzino. "But when you really think about it, it's a completely natural progression for my work and I'm proud of the fact that I was able to accomplish it." Contact your favorite authorized Fazzino Gallery for purchasing information for
What a Wonderful World,
 or visit our
current editions
page for all of the currently available Fazzino artwork.