FOR IMMEDIATE RELEASE
The "Win a Fazzino for your Home" contest is open to all Fazzino Facebook Fans
Internationally renowned 3D pop artist Charles Fazzino recently launched the new  "Fazzino in Your Home" contest on Facebook. It's open to all Fazzino Facebook Fans and . The contest runs until June 30th. Those wishing to enter must submit a picture of a Fazzino from their collection at home. All entries will be posted on the contest site so viewers can vote on their favorites. The posts with the most votes win. One Grand Prize winner will win one Fazzino 3D limited edition print  and  five runners-up will receive open edition Broadway mini prints.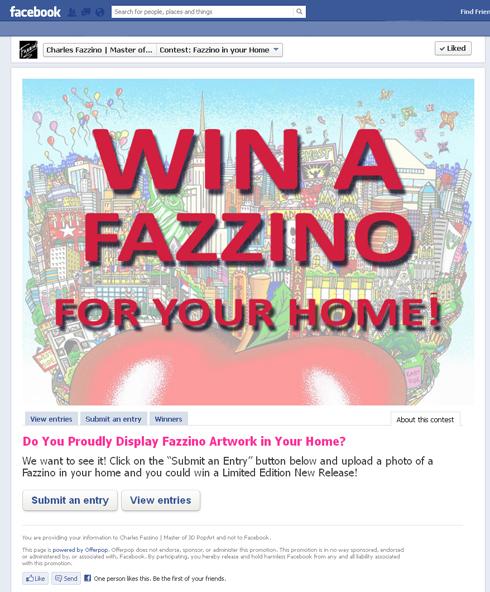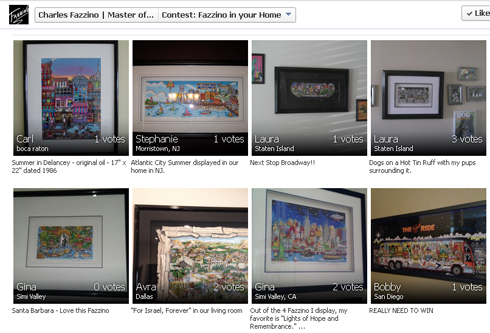 About Charles Fazzino
Charles Fazzino — one of the most popular artists in the world — is most well-known for his unique, detailed, and vibrant three-dimensional style. His work is exhibited in hundreds of fine art galleries and museums in twenty different countries. He is an officially licensed artist of the National Football League and the Super Bowl (2000-present), Major League Baseball and the MLB All-Star Game (2003-present), and the US Olympic Team (2000-present).  He has also recently created official artwork for high profile events, including: the 2011 Centennial Celebration for the City of Fort Lauderdale, the President's Challenge for President's Council on Physical Fitness and Sports, NASCAR Sprint Cup series, NHL All-Star Game, Belmont Stakes, Daytona 500, Indy 500, Andy Roddick Charity Gala, U.S. Tennis Foundation, CMA Awards, Grammy Awards,  Daytime Emmy Awards, NBC's "Today" Summer Concert Series, Rosie O'Donnell's For All Kids Foundation and the President William J. Clinton Presidential Foundation, among many others.
Media Contact
For Charles Fazzino: Julie Maner, Museum Editions, Ltd., Jmaner@fazzino.com, 914-654-9370