FOR IMMEDIATE RELEASE March 5, 2014

Official Artist of the 75th Anniversary of Little League®, Charles Fazzino, Comes to Williamsport, Pa., for Educational Workshops
SOUTH WILLIAMSPORT, Pa. (March 5, 2014) – Nationally-celebrated pop artist Charles Fazzino, has created officially licensed works of art for 14 NFL Super Bowls, nine MLB All Star Games, the XXII Olympic Winter Games in Sochi as well as the last seven Olympiads, and many other major sporting and cultural events. His next project is in celebration of the 75th Anniversary of Little League®
From February 25 to 27, through the support of the First Community Foundation Partnership of Pennsylvania (FCFP), Mr. Fazzino held a series of educational workshops for students and teachers from Lycoming and Sullivan County school districts in Pennsylvania to work on the official artwork for the 75th Anniversary of Little League. The visit also kicked off the work of fifth grade classes in Lycoming and Sullivan Counties to create their own Pop Art Project, and an art contest for the high school students in the same school districts.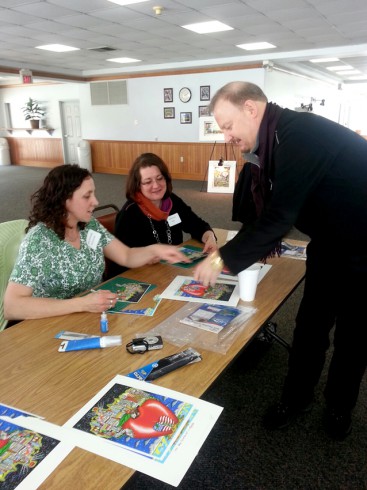 "It was wonderful to spend the week in Williamsport, the home of Little League Baseball®, to celebrate the occasion with the community," said Mr. Fazzino, who is based in New York. "Being able to work with the teachers and students of these counties was a wonderful opportunity to educate them on Pop Art and further enrich their semester through art education."
The project brought together special workshops with Mr. Fazzino and his team, creating 3-D artwork with groups of art teachers, high school students and fifth grade students. An assembly for more than 1,300 fifth grade students on Pop Art was held on Wednesday, February 26 at the Community Arts Center in Williamsport, Pa. The assembly celebrated Mr. Fazzino's work and the history of Little League.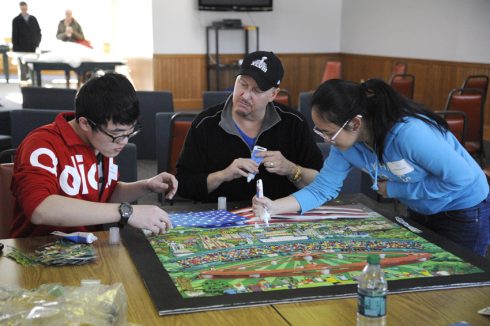 "Community and Little League have gone hand-in-hand in Williamsport since the first teams were organized in 1939," said Stephen D. Keener, Little League President and CEO. "The official artwork that Mr. Fazzino has created truly celebrates all the things that Little League is about, community, teachings and fun, and we're excited to see the finished work this August and have it on display in our museum."
On Thursday, February 27, select fifth grade students from the 10 school districts in Lycoming and Sullivan Counties came to Little League International Headquarters in South Williamsport, Pa., to work with Mr. Fazzino on the actual, official artwork of the 75th Anniversary of Little League. Mr. Fazzino took that piece of art back to his New Rochelle, N.Y., studios to finish before being unveiled at the Little League Baseball World Series on Saturday, August 16. The artwork will be on permanent display at the World of Little League: Peter J. McGovern Museum and Official Store. The fifth grade classes in all the school districts will work on their own class art project, inspired by Mr. Fazzino's pop art and Little League in the Community.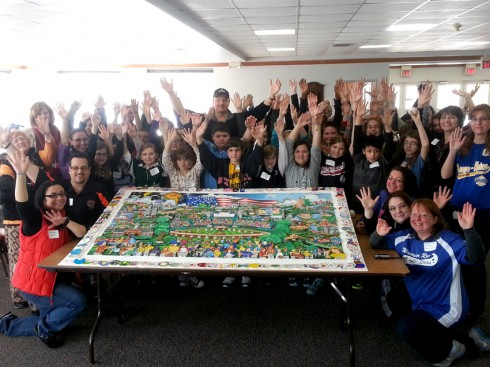 "It was wonderful having Mr. Fazzino in Williamsport to work with our teachers and students to create this important piece of art and mark the 75th Anniversary of Little League," Jennifer Wilson, FCFP President and CEO. "We're thrilled that Charles could devote so much time to sharing his story and knowledge with so many educators and students in our community, while creating what will be one of the finest works of art permanently displayed in the greater Williamsport area for the world to enjoy."
During Mr. Fazzino's trip to Williamsport, he, along with FCFP and Little League, also announced an art contest for ninth to twelfth grade students in Lycoming and Sullivan County school districts. With a theme of "Little League in the Community," the contest will run from March 1, 2014 to April 30, 2014 and will be judged by Mr. Fazzino; Mr. Keener; Jackie Thomas, FCFP Volunteer and Retired Art Teacher and Penny Lutz, The Gallery at Penn College Manager. The 11 finalists will be announced in early June and receive a variety of prizes from Mr. Fazzino, Little League and FCFP. The Grand Prize Winner will receive a trip for four to Mr. Fazzino's New York studio, a 3-D 75th Anniversary of Little League Baseball Artwork personally dedicated by Charles Fazzino, a 2014 Little League Baseball World Series Championship Weekend Package and a $250 FCFP Celebrate Your Community Charitable Gift Certificate.
The community will come together to celebrate all the artwork at The Gallery at Penn College on the campus of Pennsylvania College of Technology for the exhibit, Charles Fazzino: Collective Pop, which will run from Thursday, July 10, to Sunday, August 24. The exhibit will include original works from Mr. Fazzino, the artwork from the 11 finalists of the Little League in the Community art contest and the Pop Art Projects that the Lycoming and Sullivan County fifth grade art classes create. A "Meet the Artist" reception will be held on Monday, August 18, from 5 to 7 p.m. The reception is open to the public.
For more information on the project and photos from the events, visit the Charles Fazzino Project on LittleLeagueBigLegacy.com. Hi-res images are available upon request.
About Little League®
Little League® Baseball and Softball is the world's largest organized youth sports program, with 2.4 million players and one million adult volunteers in every U.S. state and more than 80 other countries. In 2014, Little League is celebrating its 75th Anniversary of developing major league people. For more information, visit LittleLeague.org, or follow the Little League on Facebook (facebook.com/LittleLeague) or Twitter (twitter.com/LittleLeague). Celebrate Little League's 75th Anniversary online at LittleLeagueBigLegacy.com, official hashtag: #LittleLeague75.
About Charles Fazzino
Charles Fazzino — one of the most popular artists in the world — is most well-known for his unique, detailed, and vibrant three-dimensional style. His work is exhibited in hundreds of fine art galleries and museums in twenty different countries. He is an officially licensed artist of the National Football League and the Super Bowl (2000-present), Major League Baseball and the MLB All-Star Game (2003-present), and the US Olympic Team (2000-present).  He has also recently created official artwork for high profile events, including: the 2011 Centennial Celebration for the City of Fort Lauderdale, the President's Challenge for President's Council on Physical Fitness and Sports, NASCAR Sprint Cup series, NHL All-Star Game, Belmont Stakes, Daytona 500, Indy 500, Andy Roddick Charity Gala, U.S. Tennis Foundation, CMA Awards, Grammy Awards,  Daytime Emmy Awards, NBC's "Today" Summer Concert Series, Rosie O'Donnell's For All Kids Foundation and the President William J. Clinton Presidential Foundation, among many others. You can view more of Fazzino's work at fazzino.com.
About First Community Foundation Partnership of Pennsylvania
The First Community Foundation Partnership of Pennsylvania works regionally and locally to bring together people, partners and places to grow local giving and investment, strengthen area organizations and results, and take on the critical issues and efforts needed to build vibrant communities and a thriving north central Pennsylvania region. FCFP serves the Danville area, Union County, Williamsport, and Lycoming County to create powerful communities, through passionate giving. For more information, visit fcfpartnership.org  or follow FCFP on Facebook: facebook.com/FirstCommunityFoundationPartnership   
About The Gallery at Penn College
The Gallery at Penn College strives to be an important instructional resource for students and a cultural asset to Pennsylvania College of Technology and local communities. The Gallery is dedicated to promoting art appreciation and understanding through its exhibitions of traditional and contemporary art in a variety of media. Throughout the year, The Gallery is host to numerous exhibitions and events that range from local collections to international traveling exhibitions. Penn College is a special mission affiliate of Penn State, committed to applied technology education. Located in Williamsport, Pa., the College enrolls nearly 6,000 students in bachelor's, associate and certificate programs relating to more than 100 different career areas.
###
For more information contact:
Little League
Office: 570-326-1921, ext. 2252
Email: bmcclintock@LittleLeague.org
Website: LittleLeague.org
Julie Maner
Museum Editions, Ltd.
Exclusive Publishers for 3-D Pop Artist Charles Fazzino
Office: 914-654-9370
Email: jmaner@fazzino.com
Website: Fazzino.comErin Ruhl
First Community Foundation Partnership of Pennsylvania
Office: 570-321-1500
Email: ErinR@fcfpartnership.org
Website: fcfpartnership.org