FOR IMMEDIATE RELEASE
Charles Fazzino commissioned as official artist for 2013 Warrior Games presented by Deloitte
Art collection to be featured at the competition for service members and veterans with physical and visual disabilities, Colorado Springs, Colo., May 11-16
New Rochelle, NY – –Acclaimed 3D Pop artist Charles Fazzino, a licensee of the United States Olympic Committee (USOC)  has been commissioned  to create the official artwork for the 2013 Warrior Games presented by Deloitte, being held in Colorado Springs, Colo.  May 11-16, 2013. Approximately 260 wounded, ill, and injured service members and veterans will compete in seven sports over the six-day competition. Five U.S. teams will compete with athletes representing each branch of the U.S. Armed Forces, as well as a sixth team from the United Kingdom – the British Armed Forces.   The competition will also play host to an official visit by England's Prince Harry who is a great supporter of service members and veterans around the world.
Fazzino's artwork will grace the cover of the event program and be available for purchase as the official event poster and limited edition fine artwork.  "I am proud to be involved with an event as patriotic as the Warrior Games," said Fazzino from his New York studio. "These incredible men and women have sacrificed so much for us and they deserve not only to be recognized for what they have done, but to be celebrated for all they have yet to achieve. They are truly inspiring and I hope that my artwork can give a visual voice to all they are accomplishing in the sports arena and beyond."
"We are excited to have Museum Edition's Charles Fazzino lend his artistic talents in support of the 2013 Warrior Games," said USOC Chief of Paralympics Charlie Huebner. "His artwork truly celebrates the spirit of sport and the impact it can have on service members and veterans who have sacrificed so much for our freedom."
Prints will be available for sale on-site at the competition and interested parties may also purchase items online at:
www.fazzino.com/art-blog/art-collection-2013-warrior-games/
or
www.teamusashop.com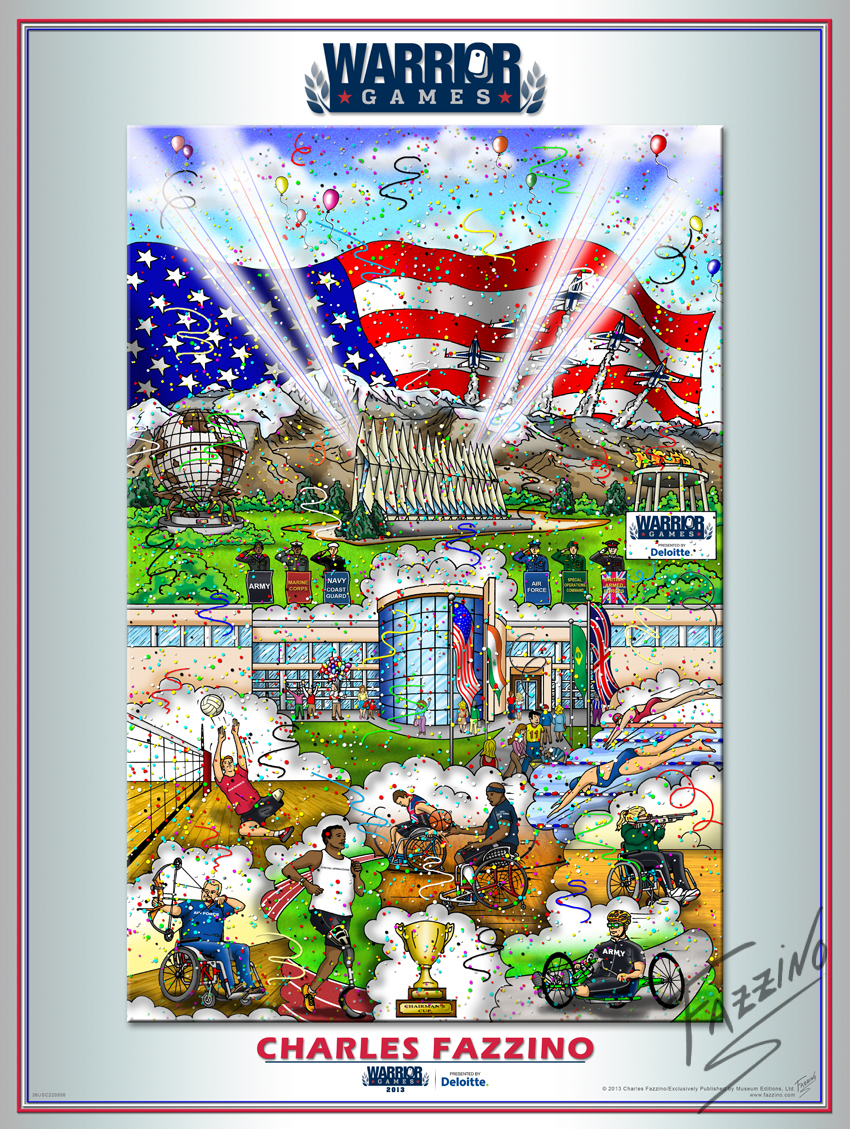 About Charles Fazzino
Charles Fazzino — one of the most popular artists in the world — is most well-known for his unique, detailed, and vibrant three-dimensional style. His work is exhibited in hundreds of fine art galleries and museums in twenty different countries. He is an officially licensed artist of the National Football League and the Super Bowl (2000-present), Major League Baseball and the MLB All-Star Game (2003-present), and the US Olympic Team (2000 to present) .  He has also recently created official artwork for high profile events, including: the 2011 Centennial Celebration for the City of Fort Lauderdale, the President's Challenge for President's Council on Physical Fitness and Sports, NASCAR Sprint Cup series, NHL All-Star Game, Belmont Stakes, Daytona 500, Indy 500, Andy Roddick Charity Gala, U.S. Tennis Foundation, CMA Awards, Grammy Awards,  Daytime Emmy Awards, NBC's "Today" Summer Concert Series, Rosie O'Donnell's For All Kids Foundation and the President William J. Clinton Presidential Foundation, among many others. You can view more of Fazzino's work at www.fazzino.com.
Media Contact
For Charles Fazzino: Julie Maner, Museum Editions, Ltd., Jmaner@fazzino.com, 914-654-9370
For the USOC: Beth Bourgeois, U.S. Paralympics, beth.bourgeois@usoc.org, 719-866-2039