Today's Featured Gift of the Day –
Sochi Olympics Mini Print
On the Fifth Day of Fazzino, we offer to you…20% off the Charles Fazzino Sochi Olympic Games Mini Print. On February 7, 2014, Team USA will march in the parade of nations opening the Winter Olympic Games in Sochi, Russia. Fazzino has commemorated every Olympic Games for Team USA since 2000 and Sochi is no exception. This  is an open edition, three-dimensional framed (approx. 7″ x 8″) fine art print celebrating the best of Team USA! USA! USA! MUST ORDER BY December 13th for Christmas delivery.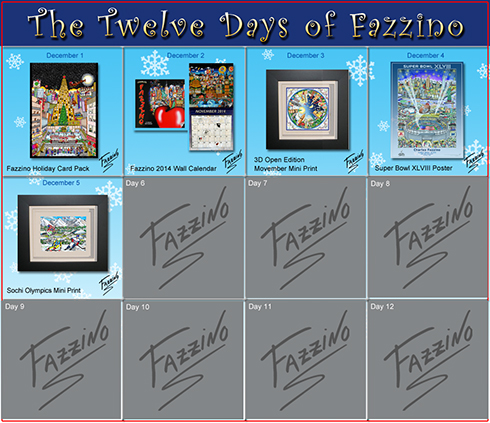 Regular Price: $175 plus shipping and handling
Today ONLY – 20% Off (while supplies last)!
To Order: Email info@fazzinocollectors.com
Plus, we're giving one of these Olympic Mini Prints away for FREE. Just post a comment on this blog or on the Fazzino Facebook Fan Page answering our holiday question of the day by midnight tonight and you'll have the chance to be our randomly selected winner.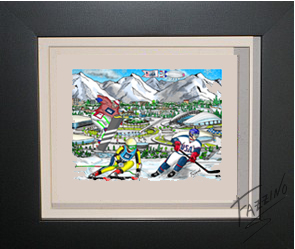 Question of the Day: How many verses does the song "The Twelve Days of Christmas" have?
Visit the Charles Fazzino Gift Shop for even more holiday gift ideas and Thank You for playing along with our TWELVE DAYS OF FAZZINO.
WE WISH YOU A HAPPY, HEALTHY, AND JOYOUS HOLIDAY SEASON!!