Charles Fazzino is supporting a very special event that takes place this Thursday, September 10th at Arts Westchester in White Plains
We are proud to announce that Charles Fazzino has signed on as a sponsor for the annual VISIONS 2015 art show held at ArtsWestchester from September 10th through September 17th. Visions 2015: Inspirations, Reflections, & Hope will feature more than 150 works of art created bymore than 70 artists who are the recipients of mental health services in Westchester County. The exhibition, which coincides with "Recovery Month" and "Wellness Week," will clearly demonstrate that recipients of mental health services have embraced the concept of hope and are willing to share their view of recovery.
VISIONS 2015: Inspirations, Reflections, & Hope is free and open to the public and will be held at ArtWestchester's Shenkman Gallery. he opening reception will be held this Thursday, September 10th from 5:30-7:00pm and the exhibit will run from Friday, September 11th – Thursday, September 17th from 12-5pm (Closed on Sunday and Monday). For more information, email us at info@fazzinocollectors.com or call ArtsWestchester at 914-428-4200.
During the reception, Fazzino's staff will be on hand to conduct an interactive art workshop. All those attending are encouraged to participate. The final piece will be sold with all of the proceeds benefiting the participating mental health agencies.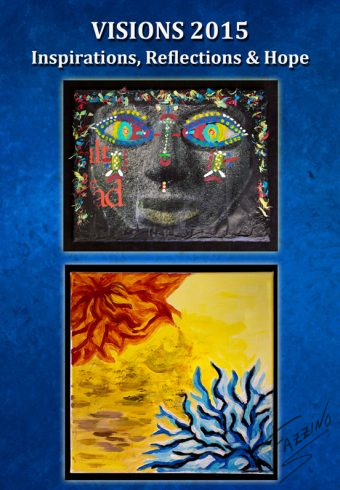 Fifty of the works, which will all be available for sale, will come from participants in the weekly Art Groups run by CHOICE of NY. CHOICE is a local mental health advocacy and case management agency we support and have worked with for several years. They will, in fact, be exhibiting there work again in our studios during this year's New Rochelle ArtsFest. For the past two years, we have hosted an art show called EXPRESSIONS, featuring their works. This year, we've incorporate that exhibition into VISIONS 2015.
These art groups have become a vital part of the services CHOICE provides, and a powerful tool for clients who are struggling to express themselves and understand their own emotional challenges. The artists' varied and diverse life experiences bring unique perspectives to their creative efforts and subject matter, with styles ranging from the realistic to the abstract. Their works are very meaningful and you will bemoved if you come to the opening reception. It's a victory celebration of sorts and we'd love for you to be a part of it.
RSVP is not required but would be greatly appreciated. Please email Choice at info@choiceofny.org .
What: VISIONS 2015 Opening Reception
Where: ArtsWestchester Shenkman Gallery, 31 Mamaroneck Avenue, 2nd Floor, White Plains, NY 10601 AND CHOICE of NY, 200 East Post Road (lower level), White Plains, NY 10601
When: Thursday, September 10th – 5:30pm-7:00pm
Contact: For more information about CHOICE, call them at 914-576-0173 or email at info@choiceofny.org.
Visions 2015: Inspiration, Reflections & Hope, is a partnership between ArtsWestchester, Rockland Psychiatric Center, and CHOICE of NY. This exhibition is made possible with funding from Westchester County Department of Community Mental Health, Rockland Psychiatric Center, CHOICE of NY and 3D pop artist Charles Fazzino.